Remembering
Special Moments
Scrapbooking is a great way to create a keepsake for any occasion. Every occasion is a little different when it comes to scrapbooking, so follow these tips for the events that are special to you.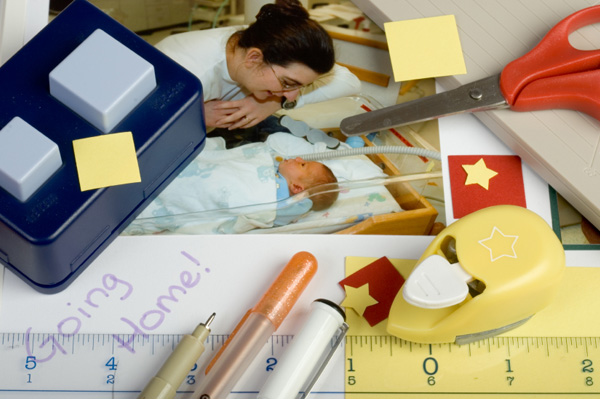 Wedding
A wedding is a once-in-a-lifetime event, so create a scrapbook that captures the whole day. Since most weddings have special colors or themes, carry that over to the book. Include invitations, RSVP cards, programs and any other paper items from the wedding.
Make sure to fill the scrapbook with candid and posed photos, because while posed photos do a good job of telling who was there and what they looked like, candid shots tell the real story of the day. The best way to accomplish this is to have one or two friends take pictures throughout the day. Include shots of getting ready and clean-up, that's a big part of the day as well. You can also leave cameras on the tables and ask guests to take photos, although that's always a gamble – you never know who will end up with the cameras or what they will take photos of! If you're lucky, your professional photographer may give you a disc of his shots for the day, so you can use pictures that didn't make it into the professional album.
How to make a wedding scrapbook >>
For an extra-special touch, include dried flowers from the day or scraps of fabric from the wedding gown and bridesmaid dresses.
Birthday
Birthdays are great. Not only do they celebrate the birthday boy or girl, but they're a reason for friends and family to come together – and to get out the camera. Include the age many times in a birthday scrapbook, finding ways to fit it on nearly every page. If the party had a theme, carry it over to the scrapbook, and include invitations, napkins and small decorations.
Creating a birthday scrapbook >>
You can also include birthday cards, but select only a few special ones, because a book full of cards can be a little boring. Cut pieces, phrases, pictures or words from cards you don't use and use those to decorate pages.
One fun way to decorate the page is by using discarded wrapping paper. Cover a page with several different scraps, or use one entire scrap for the background of each page.
Graduation
Graduations are about accomplishment and moving on, so that should be reflected in the scrapbook. The book should be made in the colors of the school, and include some memorabilia from the school or college. Be sure to include the program from the graduation ceremony, as well as the tassel and maybe a scrap from the gown.
Make the book only about graduation, focusing on pictures from the day and any graduation celebrations that may follow, or create a scrapbook that celebrates the graduate's life up to that point.
To make the book even more special, have friends and family fill out small cards with words of congratulations or encouragement and place these throughout the book.
Vacation
Vacation scrapbooks are fun to do, and vary widely depending on your destination. Include maps, admission tickets, plane tickets and more.
7 Tips for better photography >>
If you travel to the beach, fill a small, clear plastic baggy with sand and place it in the book. This can also be done with dirt, clay, pine needles and more, depending on where you go.
Collect matchbooks, napkins, brochures or postcards from different places you stop to include, and make notes in the book about each place you visited.
Baby
New baby scrapbooks are fun to do and will be cherished for many lifetimes, first by the parents, then later by the child. They can be designed to celebrate the birth alone, or may include the pregnancy, baby shower and baby's first year.
Include any invitations or announcements, as well as special mementos from the hospital. Your scrapbook may also include hospital bracelets, locks of the baby's hair, handprints and footprints, and anything else the mother feels is special.
If the book includes pregnancy, it should include stories about how the parents found out, along with special notes from those exciting nine months. Scrapbooks that include the first year should note the dates of milestones, as well as pictures and photos of how they happened.
| | |
| --- | --- |
| | Save as much as you can from an event. It's easier to throw away the extras than to find page filler later. |
More scrapbooking tips
How to press flowers
Scrapbooking 101 for moms
Making time for scrapbooking
More From SheKnows Explorer