Scrapbooking
On The Go
This simple, yet effective tote bag is simple to make and perfect for carrying essential tools when you are scrapping away from home.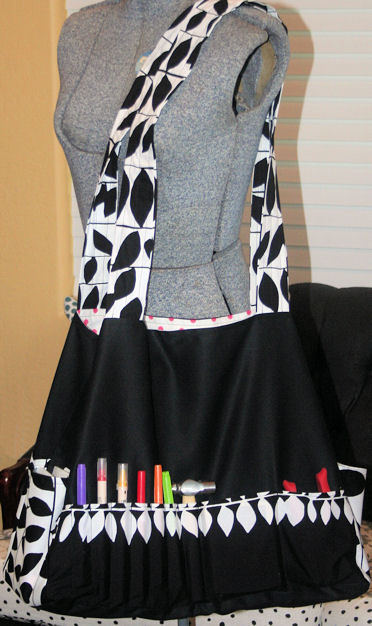 You will need these supplies:
Sewing machine
1 piece plastic canvas 18" x 7"
1.5 yards heavyweight fabric (outer)
1.5 yards lighter weight fabric (lining)
.75 yard lighter weight fabric (coordinating)
Thread, scissors, measuring tape, marking pen, pins
Iron, ironing board
Step one:
Cut out bag pieces.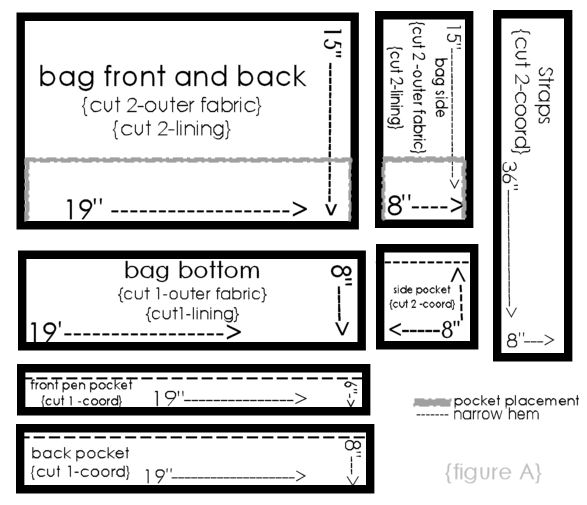 Cut from outer fabric --

2 - 19" x 5" (front and back)
2 - 15" x 8" (sides)
1 - 19" x 8" (bottom)
Cut from lining fabric --

2 - 19" x 5" (front and back)
2 - 15" x 8" (sides)
1 - 19" x 8" (bottom)
Cut from coordinating fabric --

1 - 19" x 6" (front pen pocket)
1 – 19" x 8" (back pocket)
2 – 8" x 8" (side pockets)
2 – 8" x 36" (straps)
Step two:
Narrowly hem all four of the pocket tops by folding over ¼", pressing, folding over ¼" again, pressing again and then stitching.
Step three:
Pin the pockets to the bag body pieces as shown by grey lines on figure A. Baste on 3 sides, leaving hemmed tops open. For the front pocket, I stitched lines every 2" across the left half of the pocket to store pens and markers within easy reach. I divided the right side of that same pocket in half to fit a stamp pad and decorative scissors. You can customize this part of the bag to fit the tools you want to keep organized and readily available. There aren't any inside pockets -- that space is roomy and dedicated to holding scrapbooks, embellishments, sticker sheets and paper.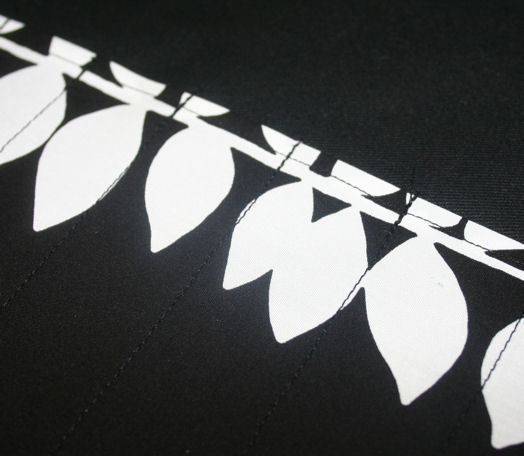 Step four:
Matching corners, sew bag front to bag bottom. Start seam ½" from raw edge and stop sewing ½" from corresponding raw edge. Repeat on other side of bag bottom with bag back, again leaving ½" on either side unsewn. Repeat for bag sides to front and bottom. Repeat for bag lining, leaving at least a 6" opening in any seam.
Step five:
Fold each of the straps in half lengthwise and press. Open up where you've just pressed and fold each raw edge into the center (clearly visible at your press line). Press raw ends in and then refold along center line and press. Stitch along both edges and in the middle for stability.
Step six:
Pin straps to bag front (3 inches in) on each side, matching raw edges and baste.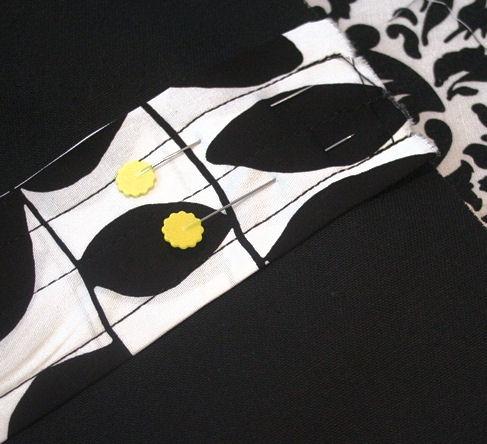 Step seven:
Assemble the bag -- Put plastic canvas into bottom of assembled bag body. It may need to be trimmed, but should seat under seam allowance and stay put. You can use a little hot glue to keep it in place while assembling the rest of the bag. Now, put bag front inside bag lining, right sides together. Using the opening you left in one of the seams, turn the bag.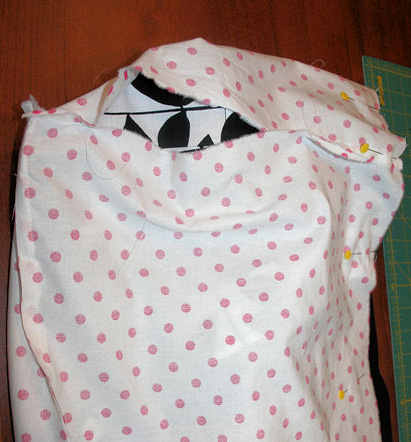 Stitch lining to bag body along top raw edge. When complete, pull bag body through opening in lining, turn lining right side out and then stuff down into bag body. Press top seam and topstitch. Close opening in lining.
Happy scrapping on-the-go!