Pamper Your Pooch
Did you accidentally machine dry your favorite wool sweater? Did moths get the best of your winter wardrobe? Don't throw that shrunken down, holey treasure in the trash! Transform it into a warm, new sweater for your very best four-legged friend!
(page 2 of 2)
Step two:
Cut off the arms and about 2-4 inches (depending on the size of your dog) of the sides of the sweater from shoulder to hem. Cut away the arms along the top seam. Cut off about 4 inches of the ribbed arm bands from the bottom of each arm, then cut open the seam of the arm so that it will lay flat and has a triangular shape at the top. Note: The arm bands should be kept intact. Pin the arm pieces back onto the sweater, matching the tips of the triangles with the shoulder seam. Pin and sew as shown. Trim your hem.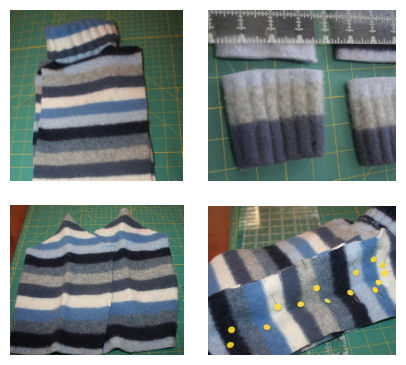 Step three:
Measure the cuffs across, laying flat. Using this measurement as a guide, mark on the front where you are going to insert the sleeves with an X. Use your dog as a guide for placement. They should be near the neckline. Each slash of the X should be roughly the same width as each cuff. Now carefully cut on your lines. This will create 4 triangular points. Cut each of those points in half again. With the sweater inside out, insert the sleeves, coming from the inside (right side of the sweater) match hems, pin and stitch. You may need to cut your slashes a little deeper as you ease your sleeve into place.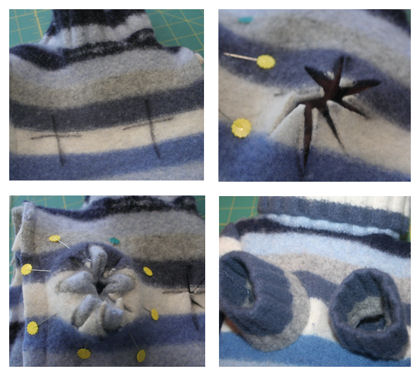 Step four:
Once you try the sweater on your pooch, you may find you need to trim it a bit in the belly area so that your pal can easily do his business without soiling the sweater. This is easily accomplished by cutting an upward slope from side hem to side hem. Because the sweater material is felted, you don't need to worry about hemming anything.
Turning that laundry uh-oh into an oh-wow for man's best friend feels so good, doesn't it? Your little buddy will be the warmest – and most fashionable -- dog on the block this winter.

More From SheKnows Explorer