Stylish & Safe
Dog Tags
Creating a dog collar and hand stamped metal dog tag couldn't be easier! Adding your own touch of whimsy with a fun woven ribbon will definitely make your pooch stand out at the dog park. You will feel better knowing your playful pup wears your contact information around his neck!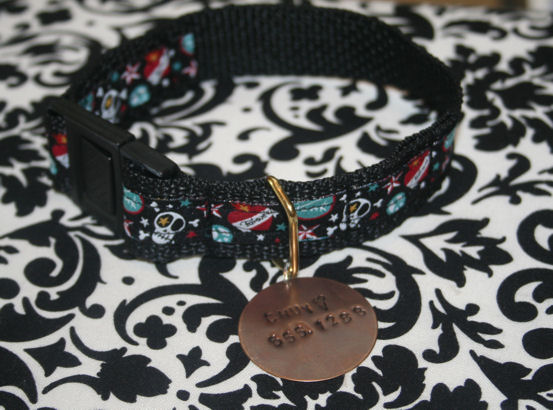 You will need these supplies to make one dog collar with a stamped metal name tag:
1/2 – 2/3 yard - 1" polyester webbing, depending on the size of your dog
1/2 - 2/3 yard woven ribbon
1 - 1" plastic center-release buckle
1 – Nickel d-ring
1 – Nickel o-ring
Blank circle charm
Pliers
Metal stamps
Hammer
Permanent marker
Thread, scissors, measuring tape, pins
Step one:
Start out by measuring your dog's neck. Add 10" to that measurement. Measure and cut your webbing and woven ribbon to that length. Heat seal (run a flame quickly across) all ends to prevent fraying. If you are not working with 100% polyester materials, apply Fray Check instead.
More From SheKnows Explorer