Stop The Mess!
Trying to teach your pet to chew with its mouth closed or to stop splashing water is probably a futile task. Rather than stressing about the mess your pet makes at mealtime, outfit the eating area with an easy-to-make pet placemat.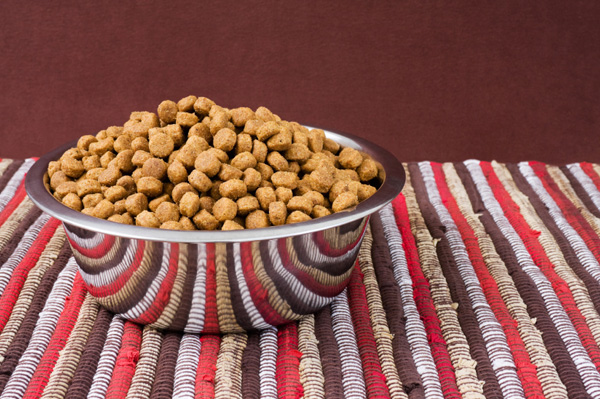 Making a heavy-duty placemat
For the pet owner with multiple animals or a super-sloppy eater, a heavy-duty placemat might be the best choice.
Preparing your supplies:
Fabric paint
A piece of plywood approximately the size you want your pet placemat to be -- generally speaking, 36 inches x 36 inches makes a good-sized place setting
A piece of canvas slightly larger than the plywood
Hot glue gun/glue
Non-slip rug underlay the same size as your plywood
Spray adhesive
Polyurethane
Staple gun
Making your pet placemat:
Lie the canvas material over the top of the plywood board and use the staple gun around the edges of the board to keep the canvas in place.
Fold the edges of the canvas around the board and glue them in place using the hot glue gun.
Decorate the canvas using fabric paint however you see fit. You could use stencils to create dog bones or fish patterns or you could dip your pet's paws in paint to make a paw print pattern across the top of the placemat.
Allow the paint to dry.
Flip the placemat over and use the spray adhesive to affix the non-slip rug underlay to the bottom of the plywood board.
Coat the canvas with several layers of polyurethane to seal the fabric's pores and prevent moisture from seeping through.
Allow the fabric 24 to 48 hours to dry completely before putting the placemat to use.
A simpler option
If your pet doesn't need the added protection of a heavy-duty placemat, keep it simple with this quick craft.
Preparing your supplies:
18" x 24" piece of construction or craft paper
Stencils of your choice
Paint
8 feet of one- or two-inch cotton ribbon
Hot glue gun/glue
Spray adhesive
Non-slip rug underlay
Access to a print shop like Kinko's
Making your pet placemat:
Decorate your construction or craft paper with the stencils or design of your choice. If you're not a very accomplished artist, consider gluing scrapbook or wrapping paper with a pet motif onto the center of the craft paper.
Glue the ribbon around the outer edges of the placemat to give the placemat a border.
Take your placemat to a local print shop and ask them to run the mat through a laminating machine and cut it down to size.
Cut the non-slip rug underlay to the same size as your placemat.
Spray the bottom of the placemat with spray adhesive, then attach the non-slip rug underlay to the bottom of the placemat.
Allow the placemat to fully dry, then put it to work.

More From SheKnows Explorer