Serve Treats
With Flair
The best place to store your pet's treats is in the kitchen, but you don't want just any old container cluttering your counters. Use these quick tips to create your own pet treat container that will add flair to your kitchen decor.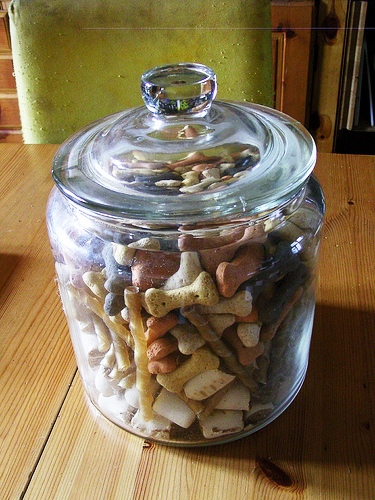 Cutesy clear container
If you want to be able to see the contents of your treat container without opening it up, choose a clear jar with a screw top lid and an opening large enough to easily fit your hand inside. This will enable you to make your project easily.
Gather your supplies:
Clear jar and lid
Paint pens in the colors of your kitchen motif
Simple images printed from your computer including dog bones, paw prints or words like "woof" and "meow"
A circle of fabric 2-inches wider in diameter than the lid of your container
Hot glue gun and glue sticks
A ribbon at least 5 inches longer than the circumference of the lid of your container
Masking tape
Make your container:
Cut the images printed from your computer into individual squares.
Tape the images to the inside of the jar so that the image itself is facing outward.
Use these images as stencils to trace and color the images on the outside of the jar with the paint pens. You can continue moving the taped images around on the inside of the jar in order to create a fun design on the outside of the jar.
Remove the taped images from the inside of the jar when you're happy with the painted exterior.
Warm up the hot glue gun, and when it's ready to use, place hot glue on the top of the container's lid.
Center the circle of fabric over the top of the lid and glue the fabric in place.
Allow the hot glue to dry, then screw the lid onto the treat jar.
Wrap the ribbon around the lip of the container's lid, hot gluing the ribbon in place at the back of the lid.
Tie the ribbon in a bow at the front of the lid, sealing the bow with hot glue and allowing the glue to dry.
Fill the container with treats and display it on your counter.
Collared container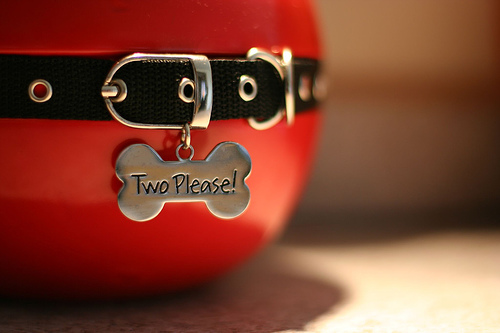 If you don't want to take the time to trace numerous images onto your treat container, consider simply tightening an old pet collar around the outside of the treat jar, and hot gluing it in place. Jazz up the collar by sewing ribbon around it or by making a custom ID tag made that says "treats" or "for dogs only." The resulting jar will be simple, understated and classy.

More From SheKnows Explorer