Traveling With
The Family
Traveling with the whole family probably sounded like a good idea before the trip, but now the kids are complaining, your single sister is sick of doing "kid stuff," and you desperately need some time away from your in-laws. It doesn't have to be like this. Next time you plan a whole-family vacation, use these six tips for surviving multi-generational travel to keep everyone happy and sane.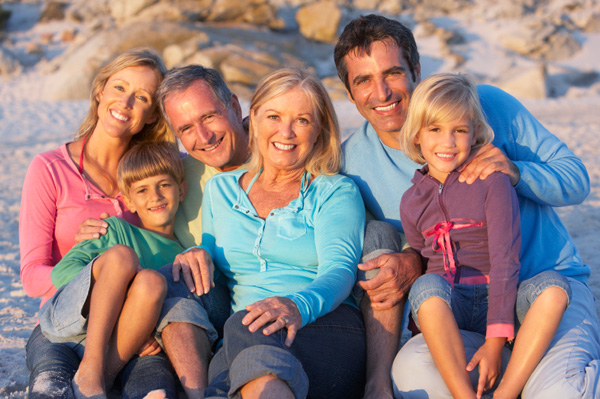 Choose accommodations wisely
When planning a big family trip, you may think that a little closeness is a good thing, and that anyone can share a room for a few days. Unfortunately, that's the kind of mentality that often leads to fights and tears. When choosing your vacation accommodations, look for options that provide ample personal space and a central community area. Vacation rental houses, condos, apartments or hotel suites will all allow family members to relax alone or as a family, and will provide an easy "out" if things start to get tense.
Look for variety
Chances are that great grandma's interests are a little bit different than your 10-year-old son's. When choosing a vacation spot, you want to make sure that the location offers a wide variety of activity options that work well for individuals and groups. Sandra Beckwith, the manager at Idaho Rocky Mountain Ranch, also suggests looking for "knowledgeable, experienced staff at the vacation destination who know the facility and area well and can reliably suggest activities based on the desires and needs of the group." If you know there's someone you can turn to when you're having a hard time choosing activities, you won't feel as stressed about the whole ordeal.
For a fun and rewarding vacation experience, try volunteer travel >>
Spend time apart
As great as togetherness is, if you feel like every moment must be spent as a family, someone's going to get frustrated. Talk with the group in advance and make sure you carve out free time where each individual or family unit can cut out and spend time alone. You may even want to see if aunts and uncles can share babysitting time so each couple has the opportunity to have a kid-free date night.
Discuss Expenses
Money can be a very tricky subject, and no one wants to feel like they're being forced to spend more than they can afford or that they're being taken advantage of. Talk very frankly with all the participating adults well before anything has been decided on in order to set a budget, talk about individual expenses and make sure everyone's on the same page. You may even want to consider choosing a vacation spot that offers customized billing so that families can designate exactly how expenses are split up between parties.
Before you go anywhere, check out these expert travel tips >>
Be flexible
When you're traveling with a large group, expect that things won't go exactly as planned. The more flexible you can be when it comes to the trip, the more you'll be able to relax and let go of potential annoyances.
Have fun
It's a vacation. You're supposed to have fun! Try to overlook your mother's criticizing comments and your kids' constant bickering. You're together as a family creating a memory, so let go of the little stuff and just enjoy the time you have together.
More vacation tips
5 Best cruises for singles
8 Bucket-list travel experiences
7 Tips for budget-friendly travel