Hit The
Balmy Beaches
If your idea of the perfect vacation involves sandy beaches, crystal-clear waters and incredible views, you won't want to miss these five tropical vacation destinations.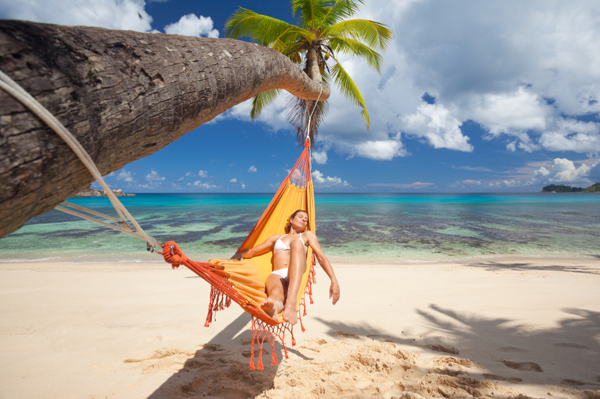 The Seychelles
The Seychelles islands are a series of 115 islands off the Eastern coast of Africa. The official island languages are English, French and Creole, so most western travelers will be able to converse with locals with ease. The Seychelles are fairly remote and expensive, but because of that, they're also quiet and pristine. Visitors can enjoy sailing between islands, diving along the coral atolls and escaping to private coves for romantic retreats. It's best to travel during the drier months between May and September.
Fiji
Located in the south Pacific, Fiji consists of 333 islands, only one third of which are occupied. Unlike some of the other tropical vacation locations, Fiji offers much more than just beaches and clear waters. You can explore rain forests and raft rivers, and go mountain biking, surfing, horseback riding and more. For the environmentally-concerned traveler, Fiji offers numerous eco-resorts and village homestays that enable you to enjoy your vacation while feeling good about your carbon footprint.
Hawaii
Sometimes the best tropical vacation spot is the one in your own backyard. The Hawaiian Islands attract tourists from around the world because they have so much to offer, including world-class resorts, renowned golf courses, incredible surf spots and every modern amenity you could possibly want. Plus, because it's a US location, you don't have to worry about exchange rates or passports when planning your trip.
Can't get enough of surf 'n sand? View the best vacation spots for beach bums >>
Maldives
Located on the equator in the Indian Ocean, the Maldives are a grouping of 1,190 small islands separated into 26 major atolls. Despite the huge number of islands, only about 200 of them are inhabited, and roughly 44 islands are set apart specifically as resorts. Given its location, the days are warm, the nights balmy and the weather almost always perfect. With the calm waters and crystalline quality of the water, the Maldives are suited for vacationers looking to scuba dive, snorkel and island hop in a quiet, peaceful setting. To avoid visiting during monsoon season, plan your trip between November and May when the weather is cooler and drier.
Travel like a celebrity! Check out these celebrity vacation destinations >>
Saba, Netherlands Antilles
If you're looking for a tropical vacation that none of your friends have ever heard of, you may want to book a trip to Saba, a tiny island in the Netherlands Antilles located in the Caribbean. Tourism just kicked off about 40 years ago, so the relatively unknown island remains quaint and charming. In fact, in 2006 it was voted the best island in the Caribbean, Bermuda and the Bahamas by Travel + Leisure. Enjoy rock climbing and hiking in the rain forest when you aren't snorkeling or diving amidst the underwater reefs.
More vacation tips
5 Best cruises for singles
8 Bucket-list travel experiences
7 Tips for budget-friendly travel
More From SheKnows Explorer