Buying Or Baking,
Make It Special!
It's time for back-to-school and sharing treats. Moms and kids agree that it's all about fun!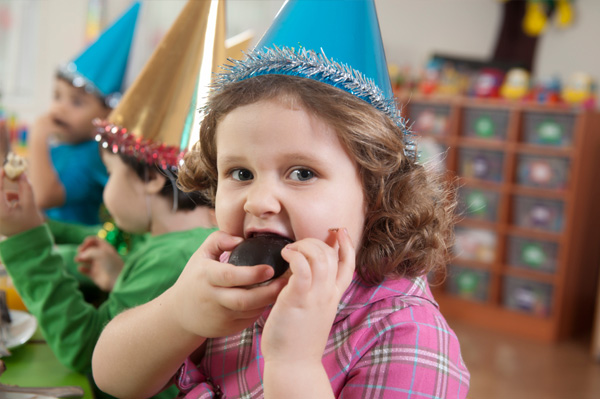 Back-to-school means moms need to be ready with treat ideas when it's their child's turn to share, be it for birthdays or other classroom party celebrations. Cupcakes are the standard fare, but you can get creative! If you're a mom who loves to cook and bake, there are a lot of options. Not so great in the kitchen and no time to spare? Never fear!
Buy it
Who says class treats have to be homemade? There are healthy and fun store-bought snacks that get the kid seal of approval. Buy little snack packs of cookies or crackers -- smaller children usually like animal crackers, Teddy Grahams and goldfish crackers. Single-serving gelatin and pudding cups (don't forget the plastic spoons) are fun, too. If eaten on the same day, fruit requires no refrigeration and small baggies of seedless green grapes and pitted cherries are colorful and refreshing. Frosty cubes of pineapple and melon, served with a soft sugar cookie, is another pleasing choice.
Ask the teacher
Be sure to ask the teacher about any food allergies their students may have, so everyone can enjoy the snack that you bring. It's good to know the school policy on nuts, peanuts and homemade and wrapped food in advance.
Easy to make
Kids clamor for their favorites -- anything with chocolate, rice crispy treats and other sweet snacks. Substituting bran cereal for half of the rice crispy cereal won't alter the taste, but will be a healthier version of the classic recipe. It's amazing what tempting little treats you can create with cereal! Rice crispy cereal gives crunch to yummy Cheese Crisps. Whole wheat cereal gets a sweet coating in a choco-crunch snack mix, and it just takes a few minutes to mix up a batch. Package them individually and watch little faces light up!
Cake pops
If you can make a cake from a packaged mix, you can wow the class with cake pops. Bite-size pieces of cake on a stick, dipped in candy coating, will get rave reviews. Because they're small, the sugar content is reduced.
These little bites are a fanciful and fun change from cupcakes, and you can make them from any cake recipe or packaged mix and choose what to top them with. Sprinkles add a little party sparkle that your child will be proud to share. Let your child help decorate them the night before -- it's part of the fun!
Think creatively
Mini-fruit muffins and individual small juices can be appropriate for a morning party -- just choose a natural juice with no added sugar. Kids love dips. Give each a small container of low-fat ranch dip and some vegetable dippers -- appealing shapes on the veggie cuts make them forget it's good for them. Try carrot curls and chunks of cucumber, or add a small package of wheat crackers for each child.
More snacks and treats
7 After-school snack recipes with veggies
Top 10 Microwaveable after-school snacks
Back to school food dos and don'ts