Pack Some
Lunch Box Fun
Get creative and introduce kids to new ways to enjoy favorite foods!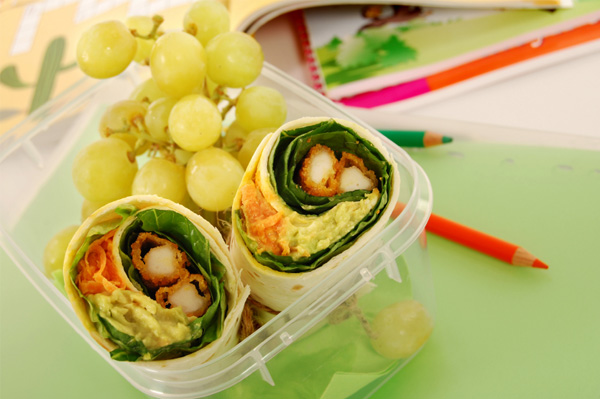 Looking for healthy, tasty, easy school lunch ideas for your kids? With a little creativity, you can please even picky eaters and pack a great lunch your child won't trade!
Be prepared
Having an unbreakable thermos for keeping foods hot/cold, and a thermal lunch bag is an easy way to preserve the freshness of what you pack. Add plastic cutlery when needed, a reusable drink box and an assortment of storage containers in various sizes with tight-fitting lids. You're ready to go!
Children's lunches should be well-balanced, healthy... and fun! Tuck in some chicken wings and a container of tomato juice, some sliced carrots and celery sticks with a ranch dipping sauce, and a crunchy granola bar. Cube melon and slice strawberries for a yummy dessert. Your child will enjoy the finger food and be fueled for a productive afternoon.
It's a Wrap
Kids love wraps, so make it a lunch-box staple they'll ask for often. Lavash -- a soft Armenian flatbread -- is perfect for an assortment of fillings. Try turkey with lettuce, sliced cantaloupe, red-leaf lettuce and spicy mustard, or make your favorite Caesar salad and wrap with slices of grilled chicken. Thin slices of lean roast beef with lettuce and tomato wrap up beautifully. A combination of turkey/chicken and veggies on a flour tortilla lightly spread with low-fat cream cheese is always a hit with kids. Go south of the border with Mexican wraps -- soft tortillas stuffed with spiced rice, grated cheese, black beans and grilled chicken. You can add salsa or guacamole to give it extra zest! Roll the wrap and cut with a serrated knife into four smaller sections that are easy for small hands to handle.
Kid-friendly sides
Fussy eaters will love salads when they're so tasty! Grate 2 cups of carrots and mix with pineapple chunks and 1/2 cup raisins. Stir in 1/2 cup of mayonnaise, and divide into lunch-size portions. Pack in a chilled container or wide-mouth thermos. Dice tomatoes and cheese to mix with your child's favorite pasta. Toss with Italian dressing and top with a sprinkle of Parmesan cheese. Or combine a diced tomato with 3 tsp. black beans, cooked frozen corn and 2 tsp. of salsa -- a single serving size at lunch gives them their veggies in a fun new way.
Slices of fruit bread -- banana or apple -- are great in the lunch box, or include a small container of crackers with low-fat cheese toppers. Sliced fruit and vegetables are more appealing in fun new shapes, so make carrot rounds or orange and apple pinwheels and they'll disappear quickly into little tummies.
Energizing lunches with protein, fruit, vegetables and whole grains don't have to be boring. Start adding some variety to this year's lunch box!
More lunch box ideas
Kid-friendly recipes from a to z
8 Fun school lunch bags and boxes
Real women speak: My kids' favorite school lunches