Planet-Friendly
Beach Finds
No need to wave a sign saying "Keep Our Seas Clean" or "Protect Our Reefs" this summer when you can show your love for the planet by hitting the beach with the latest eco-friendly accessories and must-haves!
(page 2 of 2)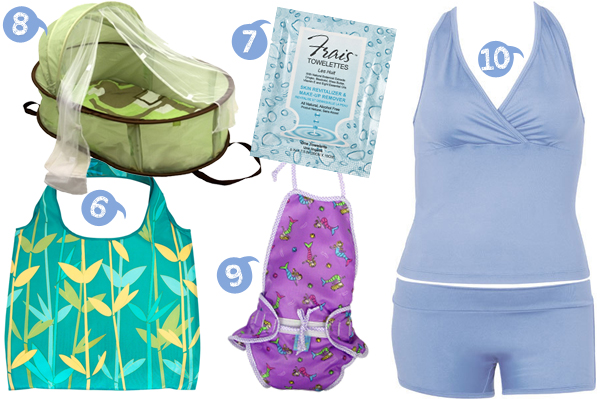 EnV Bags
Tucked into any beach bag, these bold, bright, reusable totes will make other beachcombers green with EnV! Made of water-resistant nylon, EnV Bags are not just for shopping trips to the grocery store. They can be used tote sand toys, snacks, sunscreen and other necessities with ease – all while looking fresh and hip.
Frais
Refresh naturally – anytime, anyplace! In a pinch, revitalizing towelettes are an absolute necessity when making the transition from the beach to dinner with no time for a quick shower. Infused with essential oils, these towelettes cleanse thoroughly and will remove waterproof mascara when on-the-go. Conveniently packaged in individual sachets, Frais all-natural individual towelettes are perfect for your beach bag or handbag so you can freshen up on a whim, providing instant luxury during the day when you need a lift.
Kushies Easy Fold Baby Bed
Another eco-fabulous find for those with wee ones is Kushies' Easy Fold Baby Bed. Ideal for traveling and indoor or outdoor use, the bed is both lightweight and portable, and fits easily into a standard suitcase to keep baby safe and secure when away from home. Expertly designed, this comfy bed features UV-protected fabric that keeps baby safe from the sun when on the beach.
Kushies Swimsuit Diaper
For tiny mermaids, this adorable reusable swim diaper looks like a suit! Economical and environmentally friendly, the swimsuit diaper is an ingenious solution to disposable swim diapers. Perfect for little ones, it provides a bit more coverage of the delicate chest/tummy area, too. Easy to get on and off, the wrap-style design makes it easier to change your child, while the adjustable waist with added ties provides a snug, secure fit every time.
Mountain Mama
Adventure awaits with this earth-friendly line of activewear for the trailblazing mom-to-be! No more need to wear baggy sweatpants or an oversized tee when jogging, kayaking, or hitting the beach with the family when pregnant -- Mountain Mama has you (and your belly) covered. Featuring high-quality, breathable technical gear for the mama that wants to stay fit throughout pregnancy, this exciting new line is made with plant-based fabrics like Tencel, bamboo and Modal so that pregnant women don't come into contact with toxins that are in some materials.
More ways to go green
Green your beauty routine
Cool green products
Eco-friendly fashion style