8 Ways To Add
Style To Your Space
You've heard of shabby chic, but a new take on this trend is eco-chic décor! No matter what your budget, choosing to go green in the home is always in fashion. Try your hand at repurposing and reusing household items with flair, or add earth-friendly items throughout the home to create an eclectic look with a planet-friendly twist.
(page 2 of 2)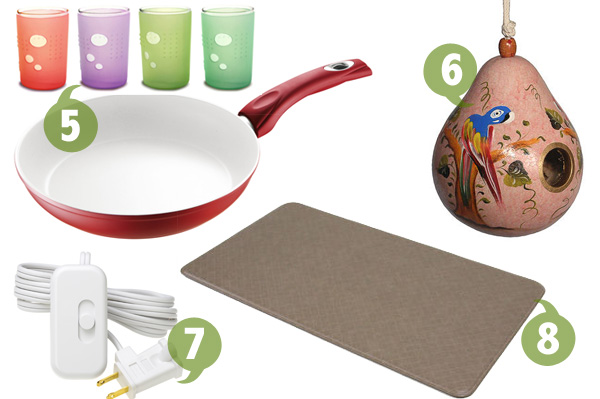 Green your cookware & glassware
Attractive and planet-friendly, the PFOA-free Bialetti Aeturnum cookware line will quickly become the family favorite for preparing fresh, healthy meals! The cookware is made with a pristine white nanoceramic non-stick coating that provides excellent thermal properties and even heat distribution, so dishes are cooked thoroughly to perfection every time.
Add style and pops of bold color with Siliskin Drinking Glass sets for cco-friendly entertaining at its best! Offered in 6 oz. juice glasses, 11 oz. rocks glasses and 12 oz. zombie glasses, these are a chic alternative to paper or Styrofoam cups, and they're both reusable and recyclable. Festive and fun, the drinking glasses are wrapped in a Siliskin sleeve, protecting the glass and providing a safe, easy-to-grip surface. For a summer party, the glasses are perfect for those seeking to relax on the patio or poolside while sipping a cocktail, without fear of dropping the glass. The silicone sleeves are BPA-free, made from 100 percent food-grade silicone and are hypo-allergenic. For easy cleaning, the sleeves are removable and dishwasher-safe.
Chef Fabio Viviani partners with Bialetti for eco-friendly cookware >>
Decorate with functional backyard art
Add a touch of whimsy to your backyard or patio with handpainted birdhouses created with gourds (vegetables related to squash and pumpkins). The whole family will love watching for a feathered friend to make its home in this uniquely shaped birdhouse. Fair-trade imported by One World Projects, each birdhouse is handmade, carved and painted in Peru.
Get more ideas from Etsy Roundup: Wall Art >>
Set the mood while reducing energy costs
Save energy and create a comfortable atmosphere in any room – with the click of a switch! The new credenza plug-in lamp dimmer from Lutron Electronics is a home lighting system that can plug into any standard table or floor lamp to set the mood while at the same time reducing energy costs. Ingenious!
Find fun floor lamps here >>
Let your soles rest on PVC- and toxin-free mats
Imprint anti-fatigue comfort mats are a must-have in any eco-chic home. Adding a sleek look to any kitchen, bathroom, laundry room or even garage, the mats provide extraordinary anti-fatigue comfort that's environmentally friendly. The mats are non-toxic and are manufactured without the use of formaldehyde, phthalates or toxic, heavy metals. Plus, they don't trap dirt and debris like a throw rug, and are waterproof and washable!
More on creating an eco-chic home
4 Eco-friendly interior design companies
Green up your home décor
Create a dream green nursery