Camping In
The Rocky Mountains
Some of the best family campgrounds in the United States can be found in Colorado, Montana, Utah and Wyoming, where you can enjoy the beautiful weather and the majestic Rocky Mountains.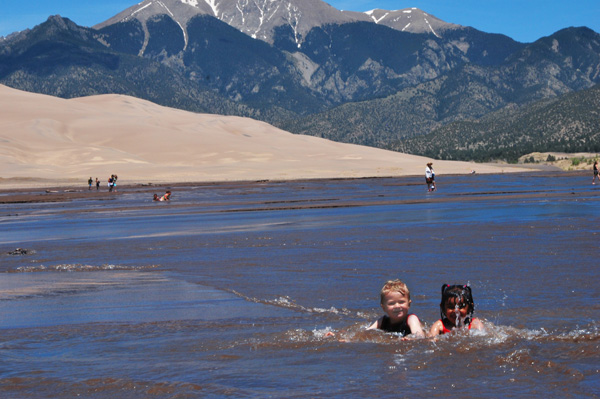 Great Sand Dunes National Park
The Pinyon Flats Campground at Great Sand Dunes National Park is an amazing place to spend a week or two camping with your family. Located near Mosca, Colorado, the park features sand dunes up to 750 feet tall -- the tallest in all of North America. The area features 13,000-foot peaks, alpine lakes, ancient forests, tundra, lush wetlands and more. Kids love the Medano Creek for swimming and floating. Keep in mind that black bears frequent the area, so you'll need to store all your food in the bear-proof boxes provided.
Glacier National Park
If you love to hike, a trip to Glacier National Park is in order. Glacier National Park is situated in northwestern Montana, where the American and Canadian Rockies meet. With more than 700 miles of trails, the park features breathtaking scenery, picturesque forests, alpine meadows, rugged mountains and glacier-fed lakes. Glacier National Park's Apgar Campground, located in a pine forest next to Lake McDonald, is perfect for those seeking both adventure and tranquility. The famous Going-to-the-Sun Road over Logan Pass opens each year beginning in June, so keep that in mind when planning your trip.
Zion National Park
Utah's oldest and most heavily visited national park, Zion National Park offers three major campgrounds. South and Watchman campgrounds are located in Zion Canyon, in the desert area of the part. The Lava Point Campground is about an hour's drive away, at an elevation of nearly 8,000 feet. The Virgin River runs near the South and Watchman campgrounds, making it the perfect place to cool off in the sunny summertime. The campgrounds offers drinkable water and flush toilets, but no showers or electricity. All campsites have a picnic table and fire pit with grill. The camping limit is 14 nights during the spring and summer months.
Grand Teton National Park
Located in northwestern Wyoming, Grand Teton National Park consists of 310,000 acres of land including the northern sections of Jackson Hole. Grand Teton National Park is situated just 10 miles south of Yellowstone National Park, with the John D. Rockefeller, Jr. Memorial Parkway connecting the two popular vacation destinations. When visiting Grand Teton National Park, we recommend staying at Jenny Lake Campground. Located at the base of the Teton range, Jenny Lake Campground features 49 individual campsites, each with a picnic table and fire pit. Keep in mind that there are no shower facilities here and each campsite allows only two tents, one vehicle and six guests.
Campfire cookout ideas
Foil-wrap campfire desserts
When you've had enough of s'mores, here are some yummy dessert alternatives to cook on your campfire.
Family travel tips
Tips for finding family travel deals
Secrets of stress-free family travel
Camping checklist: 7 things you'll probably forget