Camping In
The Southwest
The southwestern United States offers gorgeous scenery and fantastic weather, making it the perfect place for your camping vacation. This summer, head to Arizona, New Mexico or another Southwest destination to enjoy camping with your family.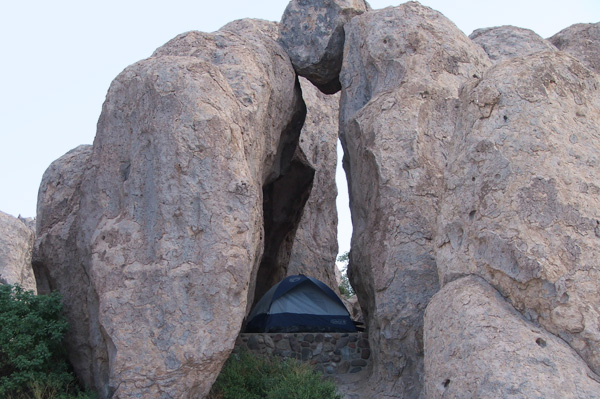 City of Rocks State Park
The rock formations at this park were formed of volcanic ash over 30 million years ago and sculpted by the wind and water over time to create a mini-city maze weaving through the boulders. This unique park is located in the desert region of southeastern New Mexico. City of Rocks State Park features numerous campsites, hiking trails, picnic areas and a desert botanical garden.
Boulder Beach Campground
Located just over a mile from the Lake Mead marina, Boulder Beach Campground is a gorgeous camping destination full of large eucalyptus trees and lots of shade. Camping is best from October through April, when it's not too hot. The campsites features BBQ pits, picnic tables, bathrooms and other amenities. No full hook-ups are available in this national park campground, but water faucets are scattered plentiful.
Cave Springs Campground
Located in Oak Creek Canyon in the Coconino National Forest, the Cave Springs Campground features camping, fishing, swimming, hiking and other fun family activities. Just 13 miles north of Sedona, Arizona, and 14 miles south of Flagstaff, Cave Springs is one of the most popular campgrounds in Arizona. Surrounded by red sandstone walls, Cave Springs offers over 80 campsites, but only a small number of those are reservable. The camps feature coin-operated showers, restrooms, picnic tables, fire pits, barbecue grills and more. Come during the week if you can, because the weekends are very crowded.
Lynx Lake Recreation Area
If your family loves to fish, camping at Lynx Lake Recreation Area in Arizona's Prescott National Forest is a fantastic summer vacation idea. The area features a 55-acre lake stocked with trout and a cool Ponderosa pine forest. The campsites offer picnic tables, toilets and drinking water but no hook-ups are available. You'll also enjoy boating, hiking, horseback riding, birdwatching and the archaeological sites in the area.
Elephant Rock Campground
Named for a nearby rock formation, Elephant Rock Campground is one of the campsites along the Red River. Here, your family will enjoy fishing in the well-stocked river or nearby Eagle Rock Lake. In the summer, this secluded New Mexico campground can get very crowded on the weekends, so try to come during the week (or save your vacation for late summer/early fall).
Campfire cookout ideas
Foil-wrap campfire desserts
When you've had enough of s'mores, here are some yummy dessert alternatives to cook on your campfire.
Family travel tips
Tips for finding family travel deals
Secrets of stress-free family travel
Camping checklist: 7 things you'll probably forget