No Sick Days For
Self-Employed Moms
Working Mom 3.0
chronicles the journey women are taking to reinvent what it means to be a "working mom." Managing a team at work is easy when the unexpected happens. But what if your team consists of "me, myself and I"? In this installment,
Stephanie Taylor Christensen
shares tips to avoid getting derailed when the unexpected happens.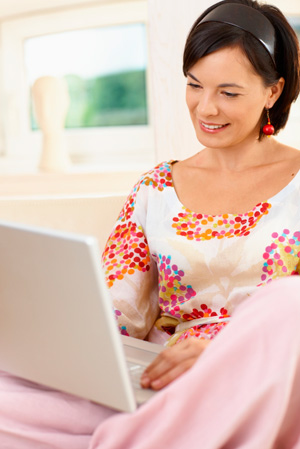 In my former career, I transformed spotting the red flags that a project was in danger of missing a deadline into an art. It's fairly simple work when there is a team of collaborators and you can adjust workloads when hiccups happen. But what happens when the only person on the team to meet those deadlines is you?
Me, myself, and I
I quickly learned one of the great challenges of self-employment last week when the stomach flu struck with a vengeance. As a writer and yoga instructor, I enjoy the ability to self-manage my career and business. Unlike my former traditional full-time job, there is no one monitoring my coming and goings. My schedule essentially revolves around my child's nap times and other commitments. I am thankful that I have the freedom to write when my mind is most fresh and to structure my day in a way that works for me and my family. It's liberating -- until uncontrollable events strike.
As I moaned and groaned in bed with the stomach flu, the days passed. So did my deadlines. When you run your own business, there are no paid sick days -- nor is there a support team or co-worker to mercifully step in to pinch-hit. Situations like this underscore the critical importance of time-management when you are self-employed, or shifting career gears after baby.
Time management tips
You needn't be an expert in time-management to control the demands being a team of one introduces, but as I learned, it's critical to your survival (and sanity!). Try to incorporate these simple adjustments into the way you structure your non-traditional career, and avoid getting derailed when the unexpected happens.
Think "24." Always allow yourself one day of breathing room when scheduling work commitments. Use it to get ahead of schedule so that you have a "life raft" when disaster inevitably strikes.
Manage distractions. While tools like Facebook, Twitter and instant messaging are the foundations of quick and easy communication, they can be huge time-wasters. Set a few dedicated times during the day to check or use them, and resist the urge to check them otherwise.
Say no. When you're self-employed and income is uncertain, it's tempting to accept every paying task. But remember that your reputation for quality matters; you're doing your business a disservice if you're stretched too thin. Prioritize the projects that contribute to your long-term goals (Hint: They're not always the ones that bring in the most money), and decline what you can't give your best effort towards.
Invest in you. You are your company's biggest asset! Take time to exercise, eat right, socialize and just chill. You will be better for it, in the many shoes you fill!
The modern woman is redefining what it means to have a successful career. Rather than feeling torn between climbing the corporate ladder and having a happy family life, many women are choosing to merge the two and transition careers from a traditional role to a more flexible one.

Working Mom 3.0 is reinventing the definition of "working mom," as office hours are held at home and revolve around nap times.

This column begins by chronicling the experiences of Stephanie Taylor Christensen, a marketing professional turned self-employed stay-at-home mom, writer and yoga instructor, as she strives to redefine "having it all" on her own time and terms
More tips for working moms
Is it time for a new career?
Time management tips: Reap the rewards of routine
10 Organization tips for busy moms
---
The opinions expressed in this article are of the author and the author alone. They do not reflect the opinions of SheKnows, LLC or any of its affiliates and they have not been reviewed by an expert in a related field or any member of the SheKnows editorial staff for accuracy, balance or objectivity. Content and other information presented on the Site are not a substitute for professional advice, counseling, diagnosis, or treatment. Never delay or disregard seeking professional medical or mental health advice from your physician or other qualified health provider because of something you have read on SheKnows. SheKnows does not endorse any specific product, service or treatment.