How To...
Use Your DSLR
Congratulations on your new DSLR camera. When you first hold a DSLR, it can be very intimidating. Compared to a traditional point-and-shoot camera, a DSLR has so many features and buttons to learn. This guide for moms will hopefully make using a DSLR camera a little easier for you.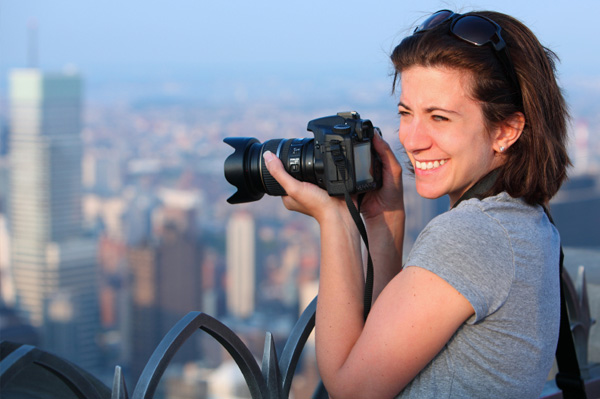 Read the instructions
You probably want to jump right in and start taking pictures. However, a DSLR is not that easy. You need to familiarize yourself with all the parts and features of your camera, so the best place to start is with the instruction manual. Read it from start to finish and get acquainted with the basic parts of your camera. Find the lens release, the pop-up flash, the view finder, the focus selector, the zoom button and most importantly, the shutter release button -- this takes the picture.

Practice changing the lens
The lens alignment is marked with a red dot on the front of your camera and each lens you attach will have similar dot. This allows you to line up, twist and click the lens into place a little bit more easily. Practice changing the lens and become more comfortable handling your DSLR.
Learn about the exposure control dial
This dial is very important because it allows you to go fully automatic (like a point-and-shoot camera), fully manual (where you have control of all the settings) or somewhere in between. On most DSLR cameras, you can choose from a variety of modes such as sports, landscape, close-ups, night, portrait and more, depending on what type of pictures you'll be taking.
Program (P) mode is full automatic. Manual mode gives you full control. Aperture priority (Av) allows you to set the aperture of the lens while the camera sets the correct shutter speed. (Aperture is the opening in the lens that regulates how much light passes through.) This is great if you want control over the depth-of-field of your photos. Shutter priority (Tv) is the opposite -- you control the shutter speed while the camera automatically selects the aperture. This is widely used for sports or wildlife photos.
Research online
If you can't figure out some of the features on your camera, do a little research online. All Things Photography offers DSLR photography training for beginners. It teaches you about all the parts of your camera and includes basic photography tips to help you get the most out of your DSLR. Also refer to the manufacturer's website for more tips and instructions about your specific camera model.
Practice makes perfect
After you have read up about your camera's buttons, features and capabilities, it's time to start shooting. Don't expect your first photographs to come out exactly how you want them. Practice makes perfect. Set your camera to automatic mode if you aren't comfortable fussing with all the settings. Start with simple still photography -- take still photos of your kids around the house, for example -- and keep practicing. Before you know it, you'll be shooting like a pro.

More about photography
Best beginning DSLR cameras for moms
How to take memorable vacation photos
How to back up your photos online
More From SheKnows Explorer