A New
Career Path
Can a working mom build a new non-traditional career path that provides that elusive work-life balance?
Working Mom 3.0
chronicles the experiences of Stephanie Taylor Christensen, a former marketing professional turned self-employed stay-at-home mom, writer and yoga instructor, as she strives to redefine "having it all" on her own time and terms.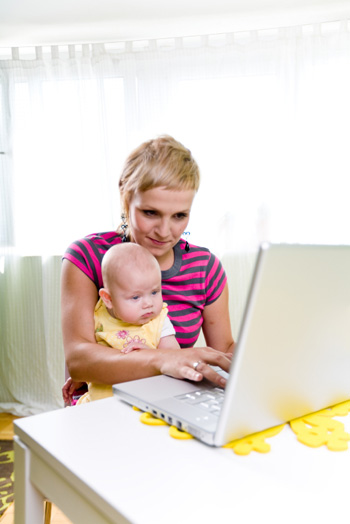 As a child, my favorite movie was Baby Boom, starring Diane Keaton. (Odd choice for a 9-year-old, I know). The protagonist is JC Wyatt, a high-powered Manhattan ad exec nicknamed "The Tiger Lady," thanks to her unrelenting commitment to all things career. Things go awry in her swanky Manhattan penthouse when some long-lost cousins pass, naming her as the guardian to their toddler.
Initially believing there is no way a baby will slow her down, she quickly finds how unforgiving the business world can be when one maniacally driven power you-know-what tries to find a little work-life balance. Disenchanted, she abandons the city and her career, believing a move to the country with her baby will solve her problems. Alas, she misses the challenges of her work, and is miserable. Eventually, her loneliness gives birth to a new career passion in the gourmet baby food business.
Life imitates art
My 9-year-old self idolized the "The Tiger Lady" -- the one who worked long hours,  had a repuatation for being a hard-nosed business woman, and lived in a pricey NYC pad. I did go on to work in advertising and marketing, and found success in the field. As a 30-year-old, I didn't particularly like what I did, but I liked building wealth. I relished my freedom, perfectly content to be the "cool aunt" forever. Then I unexpectedly met the man who became my husband. Thoughts started brewing. Maybe there was more to life than making money, fine dining and travel. Along came my son. That's when my perspective changed entirely.
I never intended to quit working after kids. In fact, I was utterly bewildered why anyone would make such a choice. But as they say, you don't know what you don't know. Sure, I had disliked my line of work for many years and admittedly dreaded going into work each morning. But as many do, I rationalized that there's a reason they call it "work." I was raised to believe that the security a traditional job provided was instrumental to life happiness.
Returning to a full-time job after maternity leave and placing my infant son into daycare brought to light emotions I couldn't ignore. I had the nagging realization that I wasn't just wasting my life in a career I hated; I was missing his.
The toughest job you'll ever love
Nearly one year ago, I left the safety of my traditional job to stay at home with my son Noah, and pursue the life and career that I want. I'm working harder than ever to build a new career for less money than I've ever made, attempting to maximize the scarce "free" hours in my day. My undereye circles are promiment, and my workday now begins very early. Office hours are during nap time. My income fluctuates monthly, and I have no idea how what the future holds. I couldn't be happier.
Join my ups, downs and lessons learned as I pursue my dream of developing a flexible, rewarding non-traditional career, while staying at home to raise my son. I'm up for the challenge. Are you?
The modern woman is redefining what it means to have a successful career. Rather than feeling torn between climbing the corporate ladder and having a happy family life, many women are choosing to merge the two and transition careers from a traditional role to a more flexible one.

Working Mom 3.0 is reinventing the definition of "working mom," as office hours are held at home and revolve around nap times.

This column begins by chronicling the experiences of Stephanie Taylor Christensen, a former marketing professional turned self-employed stay-at-home mom, writer and yoga instructor, as she strives to redefine "having it all" on her own time and terms
More career advice for moms
Ask the Miserly Mom: The cost of working
Stay at home vs. work at home vs. work outside the home
Mother's guilt: When you want to return to work
---
The opinions expressed in this article are of the author and the author alone. They do not reflect the opinions of SheKnows, LLC or any of its affiliates and they have not been reviewed by an expert in a related field or any member of the SheKnows editorial staff for accuracy, balance or objectivity. Content and other information presented on the Site are not a substitute for professional advice, counseling, diagnosis, or treatment. Never delay or disregard seeking professional medical or mental health advice from your physician or other qualified health provider because of something you have read on SheKnows. SheKnows does not endorse any specific product, service or treatment.