Eco-Friendly Cooking With Chef Fabio
Looking for a tasty way to go green in the kitchen? Try swapping your conventional non-stick cookware for an eco-friendly brand of cookware that is passionately recommended by a celebrity chef! Leading Italian cookware maker Bialetti recently partnered with the fan favorite Top Chef star chef Fabio Viviani to promote their new Aeternum eco-friendly pans. Here's what chef Viviani has to say about the green cookware and a few of his favorite Italian recipes that you, too, can cook to delicious perfection.
(page 2 of 2)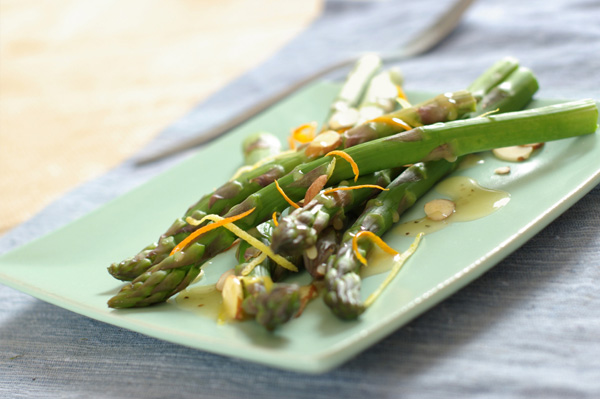 Mediterranean Sea bass
Serves 2
Ingredients
1 pound white sea bass, skin on
Salt, pepper and Bertolli Classico Olive Oil
1 tablespoon pine nuts
1 tablespoon aged balsamic vinegar
3 ounces crumbled feta cheese
1 head Belgium endive, chopped
1 green onion, thinly sliced (white and green parts)
Directions
Season both sides of the sea bass with salt, pepper and a little bit of olive oil.
Using a medium flame, heat the Aeternum sauté pan. When the pan is heated, place the fish skin-down and press it with a spatula while it crisps -- 2 to 3 minutes, depending on thickness of fish.
Once the skin side is crisp, flip the fish and cook for 2 to 3 minutes or until the flesh is crispy.
Plate the fish and set aside.
In a bowl, mix about 6 ounces of olive oil and pine nuts. Stir in vinegar and the feta cheese. Add endive and toss.
Top the plated fish with the endive salad, garnish with thinly sliced green onions and drizzle with olive oil.
Caramelized Asparagus with Parmesan
Serves 2
Ingredients
1 pound medium-sized asparagus, woody ends trimmed
1 tablespoon butter
1 tablespoon Bertolli Classico Olive Oil
A few sliced almonds
Salt and pepper
Juice from half a lemon
2 tablespoons chopped fresh parsley
Really good, aged balsamic vinegar
2 to 3 tablespoons of shaved Parmesan
Directions
Blanch asparagus in a large pot of salted boiling water. (Place asparagus upright and banded together in a pot of water filled so that just the tips are above the water.) Drain and set aside.
In an Aeternum sauté pan, heat butter and olive oil. Add a pinch or two of sliced almonds and season with salt and pepper.
Add the blanched asparagus and cook with a high flame for 2 to 3 minutes, until the asparagus and mixture caramelizes.
Squeeze lemon juice over the asparagus and add the parsley.
Immediately plate asparagus and drizzle with aged balsamic vinegar topped with fresh, shaved Parmesan.
Why you should eat organic vegetables >>
Pancetta Brussels Sprouts
Serves 2
Ingredients
8 ounces pancetta, chopped
1 pound Brussel sprouts, halved and blanched
5 anchovy fillets
Bertolli Classico Olive Oil
Grated pecorino cheese
Directions
Caramelize the pancetta using the Aeternum pan over medium heat. No oil is needed if using the Aeternum; if you're using a different sauté pan, add a little olive oil before adding the pancetta.
Once the pancetta is cooked, remove from pan and set aside.
In the same sauté pan, add the blanched Brussels sprouts and the anchovy fillets. Cook until the Brussels sprouts start to brown on the outside, then add the pancetta.
Cook for an additional 5 to 10 minutes or until the anchovies are completely dissolved.
Plate and drizzle with very little olive oil and top with pecorino cheese.
More eco-friendly cooking tips
Eco-friendly cooking: Reduce your carbon footprint in the kitchen
Eco-friendly tips: How to eat to save the planet
Eco-friendly kitchenware