Families Game Together
The Wii gaming console is a dream for families since it allows both young kids and adults to play together. So what are the top 5 Wii games for families?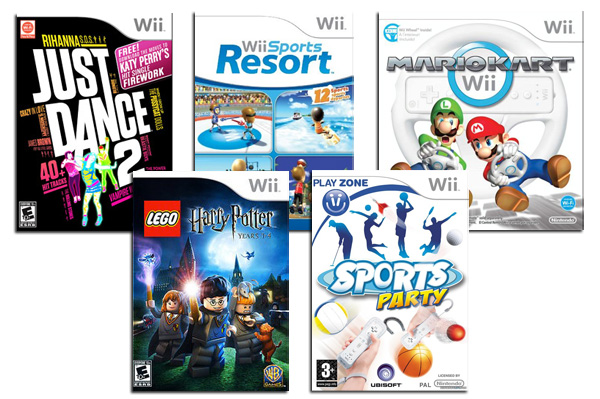 It's no secret that video games are a hit amongst kids and families. And the Wii console is great since it has motion-reactive play on some games, allowing young kids to play along with adults. But choosing a game for the whole family? That can be tricky.
These are the top 5 Wii games for families ... in no particular order.
Just Dance 2
This isn't just another dance game where you stomp your feet in time to the music. No, Just Dance 2 (and its predecessor, Just Dance) actually have you do real dance steps -- and the console can totally make sure that you are really getting your dance on thanks to the Wii Remote. Since it's movement oriented, this is fun for both adults and kids. And the music combines some fabulous classics like "Wake Me Up Before You Go Go," by Wham! with newer music like Ke$ha's "TiK ToK." Total fun for the whole family.
Wii Sports Resort
When Wii was first released, the Wii Sports games packed with the console caused many a family to fall head over heels in love. Everyone from the youngest kids to the eldest members of the family could come together and play the fun, motion-oriented games. Now, there is Wii Sports Resort. It has easy controls and allows up to four people to play at once. The fun games in Wii Sports Resort include skydiving, archery, sword fighting and golf.
Mario Cart Wii
Remember Mario and his buddies Luigi, Peach, Yoshi, Toad and more? Well, Mario Kart for Wii lets you revisit all these fun characters in an awesome kid-friendly racing game. The Wii remote transforms into a steering wheel (with the steering wheel adapter) and you get to race against each other. Up to four people can play at once.
Lego Harry Potter: Years 1-4
The Lego aspect of this game appeals to kids. The Harry Potter subject matter appeals to everyone. This fun game combines building elements with action and role-playing as you work together to move ahead in the game. It allows up to two people to play at once (although you could certainly share the controllers!).
Wii Party
When you are in the mood to play something, but not in the mood for an intense journey-type game, something like Wii Party is perfect. Up to four people can play while you enjoy fun mini-games and party games. Games include Balance Boat, Board Game Island and more.
More on the Wii
More From SheKnows Explorer