Amazing Holiday Getaways
Your most luxurious holiday weekend may be just around the corner. With upscale hotels offering weekend specials, it's the perfect reason to indulge. Consider the fancy factor: the long-term effects of sleeping on fluffy mattresses with puffy pillows and duvets, sinking into a hot bubble bath and room service (imagine hot coffee arriving in a silver pot—how fun!) could far outlast the weekend. So consider a holiday weekend away—it may be your most relaxing escape ever.
(page 3 of 5)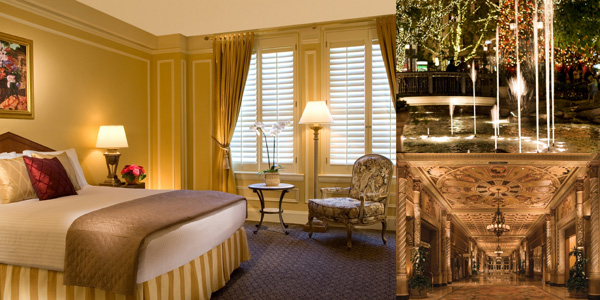 Luxury in Los Angeles
Feel like a star and stay at the historic Millennium Biltmore Hotel, designated a cultural landmark in 1969. This is the preferred hotel for many celebrities, most recently, Kate Winslet, Michelle Pfeiffer and Jamie Foxx. Filmmakers also like it: The Biltmore, which opened in 1923, has appeared in countless films and TV series, from What Women Want and Spiderman to Mad Men. Who can blame them? The hotel's allure is everywhere, from the lavish interior to the enormous sparkling chandeliers and hand-painted ceilings. The luxury hotel, steeped in historic grandeur, is situated in the heart of bustling Los Angeles near major attractions like the Museum of Contemporary Art and a short drive from Hollywood and Beverly Hills. The elegant European-style rooms feature marble bathrooms, free high-speed Internet, sumptuous bedding and complimentary access to the Health Club and Fitness Center with indoor pool. The Secrets of the Fashion District Holiday Shopping Package includes a three-hour guided shopping tour with a personal shopper, two signature cocktails and gingerbread cookies, and valet parking. Rooms start at $249 per night.
Up next: Lounge in Miami >>