Avoid These Online Shopping Pitfalls
There are thousands of reasons why shopping online is unsafe. Consider the 57,000 fraudulent sites that McAfee consultant and identity theft expert, Robert Siciliano mentions are set up on a weekly basis. Or the countless amounts of phishing and hacking that happen on a daily basis. Or the hundreds if not thousands of online databases that safeguard the most personal details of your life. Add to that the vulnerabilities you invite when you use your credit card number online and you can see how online shopping can be a minefield.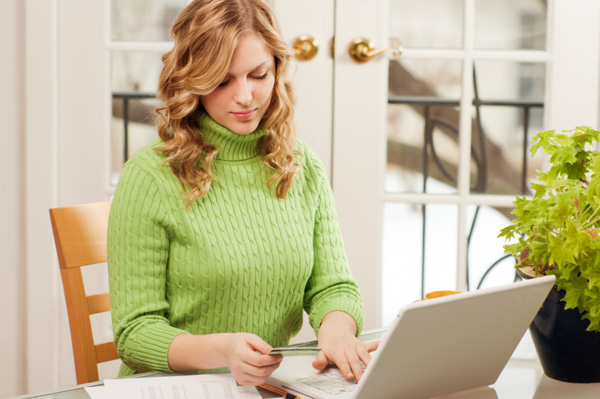 "The wild, wild Web is like any big city," says Robert Siciliano, a personal security and identity theft expert, "there are good neighborhoods and bad neighborhoods." And the bad neighborhoods can invite truly bad things into your life. Recognizing them will help you stay on the good side of town.
Let's go phishing
Phishing is the term used when hackers and identity thieves send out mass emails designed to look like they're coming from a legitimate source, for instance your banking institution, Internet provider, or a major retailer. These emails are like Trojan horses, designed to make you feel safe and secure until you click on that link, which either (1) sends you to a fake website that looks like the company's site, or (2) downloads a program onto your computer.
Option 1 invites you to log into your account, perhaps for a special offer, freebie, or discount. Once you do, your login and password have been captured. Option 2 means you've downloaded a program onto your computer that will now look for specific key stroke patterns that indicate you've typed in something like a credit card number. The program copies what you've typed and sends it to an online location where it is retrieved by the hacker. In both instances, your information has been compromised and now criminals have access to your account, all of your information, or access to your credit card details, all of which can be used or sold to someone else.
To be on the safe side, read company emails carefully and with caution. Nick Coons, chief executive officer at RedSeven, a computer repair company that helps customers keep their computers safe, recommends that instead of clicking on the email link, go directly to the company's website by typing in the business's web address into your browser.
Staying safe online
Statistics say that about 98 percent of legitimate retailers use secure sites. Not only does that leave two percent out there who aren't secure; the statistic doesn't take into account those other sites that don't represent legitimate retailers.
Experts agree that there is no one thing that's going to guarantee safety online. As Siciliano says, "The only way to avoid credit card fraud is not to have a credit card." But there are ways to decrease your exposure and one of them is knowing where and when to make your purchases—only use secure sites.
"Using an unsecure site is the equivalent of you standing across the store from the cashier and shouting your credit card number," said Coons. Everyone listening is going to hear it. The same goes for anyone "listening" in while you make a purchase.
How do you know if the site is secure? Siciliano and Coons both recommend checking the site's address bar for the telltale "https." The "s" stands for secure and means that the site uses encryption when sending and receiving your data. When you're ready to type in your credit card, look for the "s" in the address bar of your browser. It should read https://, instead of http://. You also can look for the little lock icon, usually located in the bottom right hand corner of the web page. If it's locked, that indicates the site is safe, if it's unlocked, beware.
For more tips on secure online shopping read, "6 Online shopping habits to avoid" and visit www.OnGuardOnline.gov, a joint online resource developed by the Federal Trade Commission (the federal agency that oversees identity theft) in conjunction with the technology industry to help keep people safe while shopping online.
More ways to stay safe online
---
The opinions expressed in this article are of the author and the author alone. They do not reflect the opinions of SheKnows, LLC or any of its affiliates and they have not been reviewed by an expert in a related field or any member of the SheKnows editorial staff for accuracy, balance or objectivity. Content and other information presented on the Site are not a substitute for professional advice, counseling, diagnosis, or treatment. Never delay or disregard seeking professional medical or mental health advice from your physician or other qualified health provider because of something you have read on SheKnows. SheKnows does not endorse any specific product, service or treatment.
More From SheKnows Explorer