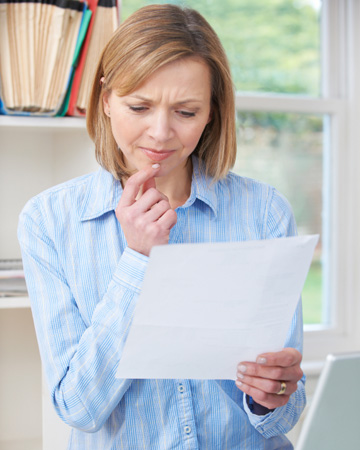 Protect your digits
Think of your Social Security number (SSN) as your very own nine-digit serial number. You need one to apply for a job, fill out a tax return, and to open a bank account. If your SSN were to fall into the wrong hands, someone could easily do a world of damage. In order to protect your identity and your funds, read on to discover five times you should never share your Social Security number.
According to Andrew Brandt, lead threat research analyst at Webroot, consumers need to change their way of thinking when it comes to their Social Security numbers. "There are some scenarios when a Social Security number is required, but otherwise, I would say there is absolutely no reason to give it to anyone," he says. "You should train yourself to reflexively not enter your Social Security number onto any form, period."
If the person collecting your application says it won't go through without your Social Security number, Brandt suggests asking them to explain to your satisfaction why it's required. Technically, private companies are allowed to deny service based on your refusal to provide your Social Security number. To work around that, a good strategy is to offer something in place of your SSN, like your driver's license number or even a cash deposit.
Read on for five times you should never share your SSN:
Applications for discount cards
"Just because a supermarket club card application is asking for your Social Security number doesn't mean it's appropriate for you to give it to them, nor is it necessary, or even appropriate for the supermarket club to have that information," Brandt explains.
Over the phone
No matter how convincing the caller may be you should never give your SSN over the phone. So what should you do? If someone claiming to be from your bank, phone company, or health insurance company asks for your Social Security number, Brandt advises you get their name and phone extension, then call them back using the number printed on your latest statement or from their website. This way, you can validate that they're legitimate and not a scammer.
Online
The same goes for online. Tami Nealy, director of corporate communications at LifeLock, says banks and health insurance companies will never send an e-mail asking you to reply with your Social Security number. If you receive a suspicious e-mail appearing to be from your bank or insurance provider, validate it by contacting them directly using a phone number from their official website or from your last statement.
Registration for your childs' school
According to Nealy, it's not necessary to provide your Social Security number when registering your youngster for school. Keep in mind that some daycare providers may ask you to sign an acknowledgement of the amount you pay them annually for their records, but they shouldn't require your SSN.
Doctor's office
Unless you're on Medicare or Medicaid, your doctor shouldn't require you to provide your SSN. Many doctors think of your Social Security number as their protection against missed payments. So, if your doctor insists on receiving your nine digits, ask if you can pay cash upfront instead. The less eyes that see your SSN, the better.
More ways to prevent identity theft
10 tips to prevent ID fraud during the holiday season
How to protect your privacy and identity with passwords
6 ways to protect yourself from identity theft