Universal Orlando Travel Guide
If you are a Harry Potter fan (or the parent of one) you are probably aware of the new Wizarding World of Harry Potter theme park that debuted this summer at Universal Studios Orlando. SheKnows co-founder and executive editor Betsy Bailey and her 13-year-old daughter, Hannah, jetted off to Orlando for a peek. Now we're sharing this experience with you!
(page 5 of 6)
Must-do
Universal Orlando VIP Tour Experience
This entire trip was a wonderful treat, but there was one thing that made it extra-special: VIP treatment. And here was something I never realized — you don't have to be a movie star to enjoy this premium service! At $3,000 for a private tour or $150 per person for a non-private party-of-12 tour, the cost is not out of the realm. When I schlep my family across the country for a theme-park adventure (something that takes years for a family of eight to save up for, I assure you!), I would absolutely make sure the budget included this additional perk. You get 5 to 8 hours with a park guide, immediate entrance into the rides, plus your guide can assist you with reservations at the park restaurants.
I cannot recommend this option enough. No waiting in line! The time savings is enormous. Our guides, Phil and Joe, were friendly and informative — sharing lots of anecdotes and behind-the-scenes info about the park and the rides. Plus, our tour was completely guided. You can personalize the experience as much as you want to with the private tour, but it is a beautiful thing when you can relax and enjoy the experienced planning someone else did instead of negotiating with bickering kids and making stressful decisions. One of these experiences is a vacation — the other is a lot of work!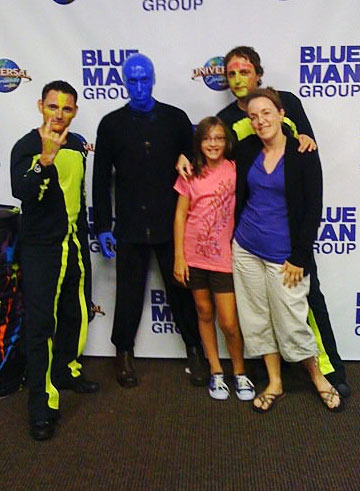 To schedule your own VIP tour contact a guide directly at 407-363-8295 or by email @ viptours@universalorlando.com
Must-see
Blue Man Group
I'm loath to say much about this family-friendly show, because I don't want to spoil it. I went into it completely without expectations and emerged from the show absolutely delighted with every single moment.
We had just spent an incredibly busy day on our feet, in the sun, and my 13- year-old companion was pretty exhausted by the time this after-dinner entertainment started. In fact, at dinner she was asking me if we could bail on this event and just go back to the hotel. She was so glad I did not give in to her request. I forced her to go against her will and she had one of the best times she's ever had. I don't think she stopped laughing for the vast majority of the show. Do make the Blue Men part of your vacation itinerary.
More...