Universal Orlando Travel Guide
If you are a Harry Potter fan (or the parent of one) you are probably aware of the new Wizarding World of Harry Potter theme park that debuted this summer at Universal Studios Orlando. SheKnows co-founder and executive editor Betsy Bailey and her 13-year-old daughter, Hannah, jetted off to Orlando for a peek. Now we're sharing this experience with you!
(page 4 of 6)

Universal Studios: Where to eat
The Kitchen
The Kitchen at the Hard Rock Hotel is a fun surprise. I guess since we were at the Hard Rock, I was expecting something typically Hard Rock Cafe, but it is decidely not. The Kitchen is all-American in theme, but this is not bar food. This is not chain food.
The Kitchen is not typical American menu fare, but it is what a typical American restaurant should be offering. This is how your mom would make meatloaf (and other classic comfort foods) if she happened to be a gourmet chef.
Speaking of the meatloaf? Get the meatloaf. Trust me. I failed to get the meatloaf because who the heck orders meatloaf when you have options like sausage and broccolini ravioli with sun-dried tomato cream (what I ordered) and their famed mac & cheese with Manchego, Monterey Jack and cheddar cheeses. Lucky for me, Hannah ordered the meatloaf and after one (I mean, several) bites of her meal, I spent most of mine wishing I'd gotten that instead. Considering that my own meal was also spectacular, that tells you something about how much you're missing if you don't take my advice and get the meatloaf.
I love how they incorporated common kitchen utensils in the décor and serving dishes. Clever — think upscale contemporary-shabby kitsch.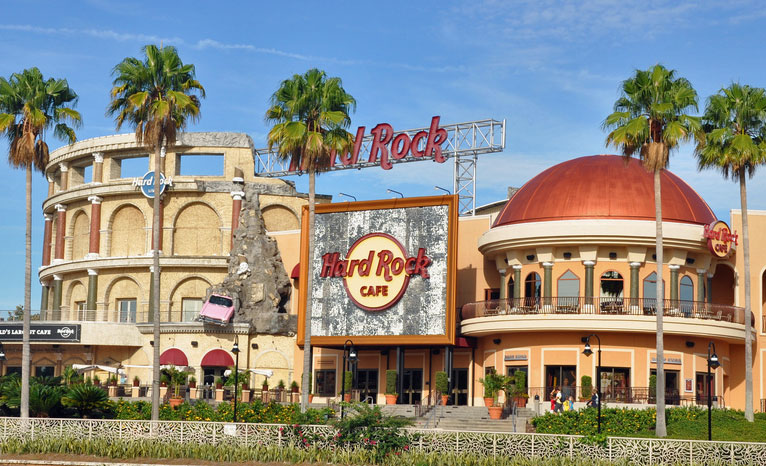 Hard Rock Cafe
In comparison, our dining experience at the actual Hard Rock Cafe was disappointing. The food was reliable, if not exciting, but the service was plain abysmal. Located in the Universal Studios City Walk (along with dozens of other dining options, including Emeril's, Margaritaville and NBA City, among others), this particular Hard Rock Cafe is billed as the world's largest. Unfortunately, this vast restaurant was not adequately staffed, because our food came slowly and erratically. Two women in our party ordered fajitas and got the actual sizzling meat part of their meals delivered at least 10 minutes after their tortillas and condiments were brought out. I hate to look a gift horse in the mouth, but I would have been irate if I'd been paying for that meal.
As a side note, the gigantic, interactive touchscreen that took up a whole wall was a major attraction for kids and grownups alike. It was like a gigantic iPad, devoted entirely to rock and roll trivia. Super cool. That might just have made up for the mediocre dining experience, at least in the kids' eyes.

Mythos
Mythos restaurant is located in Universal Studios Island of Adventure park and has been rated the Best Theme Park Restaurant by Theme Park Insider for six years running. In spite of these accolades, my expectations were pretty low, quite frankly, because look what they're being compared to: Theme-park food — an experience that is always so disappointing. To that end, I was pleasantly surprised by how much I enjoyed my meal at Mythos. Particularly I enjoyed the mushroom flatbread appetizer.
While I have no complaints about the much-lauded blueberry and pistachio crusted grilled pork that I ordered (pictured at right), once again I was jonesing for someone else's dish: The Mythos bistro filet (served with Yukon mashed potatoes, truffle butter and topped with spicy fried onions!) is what I should have gotten instead (I wasn't crazy about the mac and cheese side I received with my meal). Also noted, our server actually recommended the Mythos burger as one of the best dishes they had to offer. I might have liked to try that another time. And our park guides strongly recommended the risotto of the day. Plenty of options here, many of them unique and certainly not what you would expect from a theme-park restaurant.
More...