Universal Orlando Travel Guide
If you are a Harry Potter fan (or the parent of one) you are probably aware of the new Wizarding World of Harry Potter theme park that debuted this summer at Universal Studios Orlando. SheKnows co-founder and executive editor Betsy Bailey and her 13-year-old daughter, Hannah, jetted off to Orlando for a peek. Now we're sharing this experience with you!
(page 3 of 6)
Where to stay: Universal Studios resorts
While we stayed at the Hard Rock Hotel, you cannot go wrong with any of these three on-site resorts. All of them offer beautiful accommodations and access to the theme parks via free water-taxi or a short walk through lushly gardened grounds. If you're going to Orlando for a theme park experience, full-stop, including the resort-level hotel experience,  you get exactly that with any of Loew's options at Universal Studios: Impeccably themed, with spacious, comfortable swimming pools and fun restaurant options. You really feel like you're on vacation — as you should!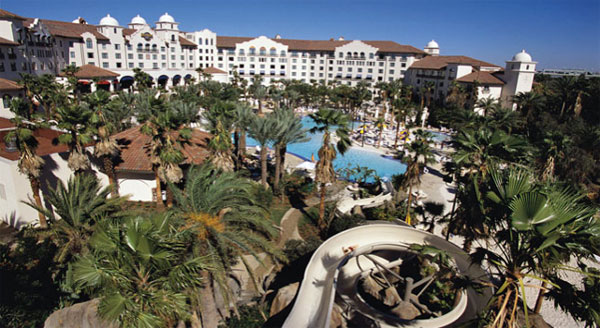 Hard Rock Hotel
Hannah says of the Hard Rock Hotel: "Driving into the Hard Rock Hotel is like walking into a set for a music video. The setting of the hotel is cool, and everything is so in-theme. We checked in quickly and looked around a little on the way to our room. The elevator music isn't boring. The coffee shop is nice for a quick breakfast, and The Kitchen has great food. We ordered room service and that was delicious. I didn't like the fact that you had to pay for Wi Fi per computer." (Yes, she is her mother's child.)
Royal Pacific Resort
Home of Emeril's only Asian-themed restaurant, the Tchoup Chop. We didn't eat there, but we did peek in and I just had to take some photographs. It was like a jewel — absolutely gorgeous décor and perhaps the most stunning restaurant lighting I've ever seen. Even if you only stop in for drinks and an appetizer, you have got to see this place. (My photo below doesn't even begin to do it justice.)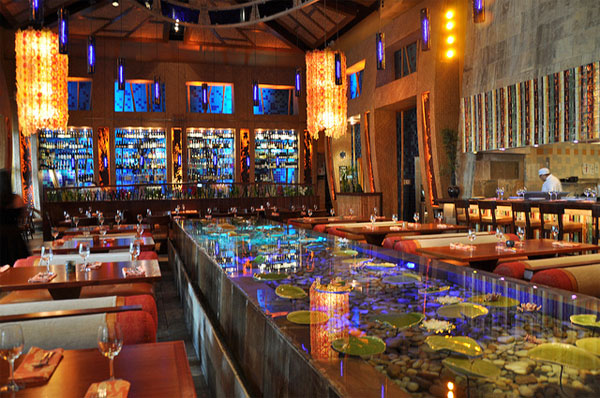 The common spaces of the Royal Pacific Resort are lushly tropical. I loved the island mood they've captured. This family-friendly hotel also offers a child care center for young children.
Wantilan Luau
We enjoyed the Wantilan Luau available every Saturday (and Tuesday in the summer) at this hotel. Kids and grownups alike had a blast at this audience-participation show. Dinner is served buffet-style and it was tasty. Besides the traditional succulent roasted pig, I had teriyaki chicken with rice. The coconut shavings added a yummy tropical touch to the rice!
Mai tais were included with this meal. They're on the weak side, which, given the rate my glass was refilled, is probably a very good thing. Unlike my daughter — who loved getting up on the stage and learning some hula moves with the native Hawaiian professionals — I really wasn't interested in swinging my hips on stage(!). I'm shy like that.

Portofino Bay Hotel
We very much enjoyed our stay at the Hard Rock Hotel, but I think when I go back with my whole family someday, I would lobby for the Portofino. The story is that Steven Spielberg himself suggested a resort hotel themed on this Old World Italian city. I thought it was definitely the most romantic choice of the three options, especially if you have a Universal Studios honeymoon in mind.
By the way, the family-friendly two-room suites in these properties are adorable — you can stay in a Dr. Seuss-themed suite or opt for the Jurassic Park theme.
Why, oh, why no free Wi Fi?
I'm a writer and an Internet addict, so take this for what it's worth: I can honestly say that I have only one complaint about our stay, but it was a persistent annoyance: Being charged for the Wi Fi access — per device. Really?! Because, yes, being online is an important and fun part of vacation for me and my kids — we wind down with games and/or news and/or our online communities (hiya, Facebook), plus I find a vacation way more relaxing when I don't have to dread the 20 million unread emails waiting for me when I get home!
I realize, however, that this is a non-issue for many of you. There is nothing wrong with a tech hiatus while you're on a family vacation. It's probably even the Right Choice.
Room key benefits
Anyway, when you stay at any of the three Universal Studios on-site hotels, your personalized room key grants you the following benefits:
Use it as an express pass for all the park rides, short-circuiting the longest lines. Note: All members of your party are issued a room key with their name printed on it.
Park access one hour before they open to the general public. We recommend that you proceed directly to the Forbidden Journey ride at the Wizarding World of Harry Potter. Obviously, at the time of this writing, that is one of the most high-demand rides in the park right now —and with good reason!
You receive a discount on purchases.
Link it to your credit card and use it anywhere in the parks, hotels, shops and restaurants to make purchases. You can decide at check-in which cards you want linked to funds and which should not be.
No need to schlep everything you buy around all day, either: Just ask to have your purchases sent to your room! (OK, this is negligibly a benefit — because it's a great way to overextend your vacation budget. If you do this, be careful!)
More...