Universal Orlando Travel Guide
If you are a Harry Potter fan (or the parent of one) you are probably aware of the new Wizarding World of Harry Potter theme park that debuted this summer at Universal Studios Orlando. SheKnows co-founder and executive editor Betsy Bailey and her 13-year-old daughter, Hannah, jetted off to Orlando for a peek. Now we're sharing this experience with you!
(page 2 of 6)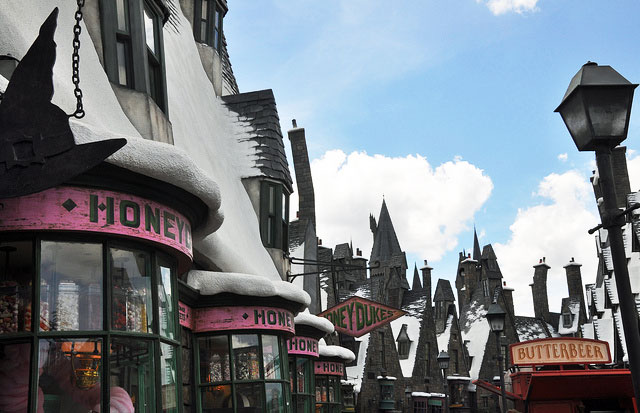 Wizarding World of Harry Potter
As much as we enjoyed every aspect of our stay, we were specifically excited to see the brand-new Wizarding World of Harry Potter theme park – and it did not disappoint. That's saying something, because the research we did before the trip built our expectations sky-high. Designers of this park, with consultation from J.K. Rowling herself, did such an incredible job recreating Harry Potter's world — we felt immersed in the books and the movies.
Harry Potter's Forbidden Journey
I can't imagine many fans will find themselves disappointed, particularly with the highlight of the park: the Harry Potter and the Forbidden Journey ride. Wow. Wow!! When we dive-bombed the quidditch field, it took my breath away. So many things did about this ride (and there was a lot of dive-bombing in various locations, like from the roof of Hogwarts). When we emerged from the ride (a little disappointed that it was over so quickly, truth be told) this 42-year-old mother of six very enthusiastically leapt at the chance to ride it immediately a second time. I am amazed at what heights of immersive experience are available with today's technology. This ride is a whole new level — in so many of the scenes (that we physically moved through) I felt like I was flying right through a Harry Potter movie. No 3D glasses required.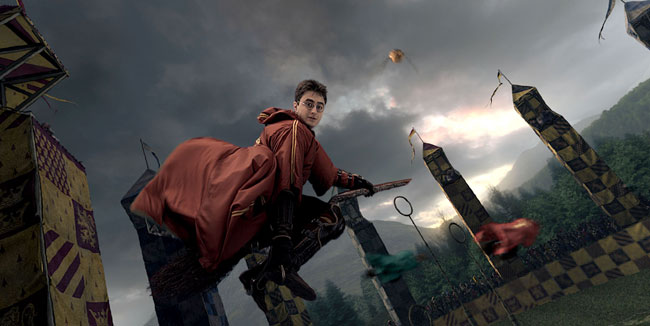 Will Harry Potter and the Forbidden Journey ride make you sick?
Those of you prone to motion sickness might have some issues with this ride. Usually this is a problem for me — for example, the Dragon Challenge ride (cleverly staged as an event in the Triwizard Tournament), which corkscrews and goes upside-down at approximately 55 mph, did make me feel quite ill. However, the Forbidden Journey doesn't go quite that fast and, while it does tip you back a couple times, you are never upside-down. One of our companions did feel a little uncomfortable after this ride, however, and opted to skip a second go at it.
Ollivander's Wand Shop
There was a bit of a line for this shop/show/attraction, but it's a fun little interlude that is worth the wait. Ollivander himself is present and he is ready to help a wand find its owner — a lucky audience member he picks at random. All of the shops are quite delightful reproductions of what you'd find in Hogsmeade/Diagon Alley. There is a bit of hybridization there, but no matter — it's all great fun anyway.
The Three Broomsticks
Mythos might have a long-standing record as best theme-park restaurant, but I wouldn't be surprised if the Three Broomsticks doesn't give it a run for its money. Fish and chips? Super-tasty! (Though it doesn't come with a side of cole slaw, disappointingly, but apparently that is an Americanization and they were aiming for a more authentically British version of this meal.) Anyway, the fish and fries were tasty indeed. Other traditional British favorites on the menu include turkey legs, shepherd's pie and cornish pasties, as well as more typical American fare.
On butterbeer and pumpkin juice
As any Harry Potter fan knows, The Three Broomsticks is also home to butterbeer and pumpkin juice, both of which are recreated here. The flavor of pumpkin juice is what you'd expect mulled pumpkin cider to taste like, if such a thing existed.
Butterbeer was fascinating. It's not really on tap — in fact, it's made with a two-step pouring method. The spectacular head of froth is a separate part of the recipe and is it ever long-lasting (and creamy and salty-sweet and yummm). Butterbeer flavor is darn hard to explain, but to me it was like a butterscotch-y cream soda. It wasn't as overpoweringly sweet as I was expecting it to be — a surprisingly refreshing beverage, and purportedly lower in calories than the typical non-diet soda. They serve butterbeer frozen, too, which is a delightful treat considering that in this Hogsmeade re-creation, snow and winter truly is a fantasy ...
More...