Top Fall Travel
Destinations
Get ready: Fall is just around the corner! If you think autumn is only for leaf peepers, think again: It's one of the best times to travel. The changing colors are indeed amazing, and the crisp weather and thinner crowds make fall travel even more enticing. Our five favorite fall destinations offer something for everyone, whether you're a fan of fall colors, mountain maven or adventure seeker.
(page 4 of 5)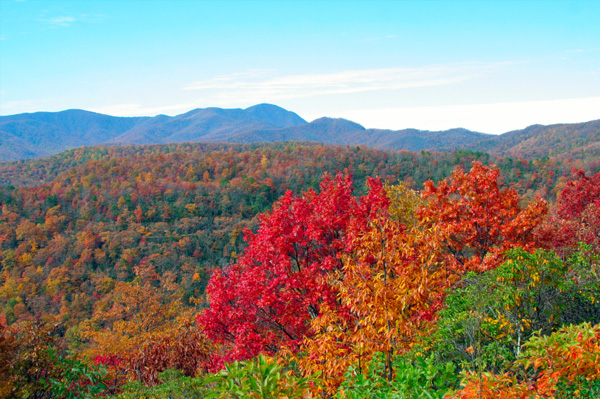 Blue Ridge, Georgia
The Blue Ridge Mountains are the quintessential fall getaway. Part of the Appalachian mountain range, the mountains get their name for the appearance on the horizon. This enchanting region is a nature lover's paradise, and activities abound, including: hiking, trout fishing, whitewater rafting, horseback riding or just sitting back and enjoying the views. A perfect fall vacation afternoon might include a leisurely afternoon drive or taking the 26-mile Blue Ridge Scenic Railway tour through the beautiful Toccoa River in vintage railcars. And don't forget it's apple season. Pick some or enjoy some cider at one of the region's most popular orchards.
Where to stay:
Above the Rest Luxury Cabins, Blue Ridge, 706.374.2057; www.abovetherestcabins.com. Rustic cabins and luxury log homes are situated atop the mountain with all-around views.
Hearthstone Lodge, 2755 Hwy 282, Chatsworth, 706.695.0920; www.thehearthstonelodge.com. The cozy bed and breakfast, located in the mountains, features three suites (all named after a favorite apple).
Where to eat:
Harvest on Main, 576 East Main St, Blue Ridge, 706.946.6164. Expect comfort foods like pork loin with sweet potato-pecan mash, local trout and green beans, and stuffed Vidalia onion.
Serenity Garden, 657 E. Main St., Blue Ridge, 706.258.4949. The cozy café is known for its homemade soups, salads and sandwiches. Save room for pie, which the restaurant makes from scratch.
Up next: Vermont >>