Top Fall Travel
Destinations
Get ready: Fall is just around the corner! If you think autumn is only for leaf peepers, think again: It's one of the best times to travel. The changing colors are indeed amazing, and the crisp weather and thinner crowds make fall travel even more enticing. Our five favorite fall destinations offer something for everyone, whether you're a fan of fall colors, mountain maven or adventure seeker.
(page 2 of 5)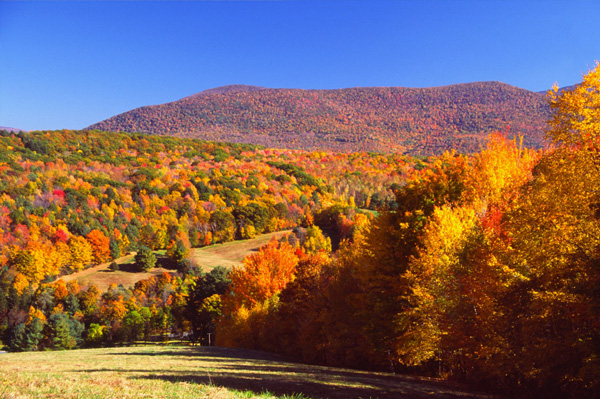 The Berkshires
The fall colors in western Massachusetts' Berkshires are reason alone to visit. Peaking in October, the autumn leaves turn a spectacular mix of yellows, reds and oranges. Enjoy nature's splendor with a country drive or hike in the forest. Prefer museums? MASS MoCA, one of the largest centers for contemporary arts in the country, showcases works by well-known and emerging artists. The Norman Rockwell Museum, meanwhile, hosts the world's largest and most significant collection of the artist's work, including 574 original paintings and drawings.
Where to stay:
The Porches Inn, 231 River Street, North Adams, 413.664.0400; www.porches.com. Chic yet homey, amenities include high-end details like Italian cotton sheets, slate-tiled bathrooms and free Wi Fi. The hotel features a state-of-the-art gym and year-round outdoor swimming pool. A healthy breakfast is included — don't miss the Bola granola made by Michele Miller (sister of fashion designer Nicole Miller).
The Red Lion Inn, 30 Main Street, Stockbridge, 413.298.5545; www.redlioninn.com. The Berkshires' earliest inn opened around 1773 as a general store and houses 100 guest rooms, all individually decorated with antiques and featuring the latest modern comforts, including luxurious bedding from the Mascioni Collection, plush mattresses and free Wi Fi.
Where to eat:
The Dining Room at The Red Lion Inn, Stockbridge, 413.298.5545. The restaurant serves classic New England favorites as well as contemporary dishes.
Gramercy Bistro at MASS MoCA, 87 Marshall Street, North Adams, 413.663.5300. The bistro is known for fresh, seasonal produce and organic meats.
Up next: Blowing Rock >>