Canadian Summer Vacays
We're halfway through the summer season and not quite ready to gear-up for the onslaught of back-to-school must-dos. With plenty of opportunities for quality family time left, we've found 11 kid-friendly holiday gems sure to entertain and inspire.
(page 2 of 2)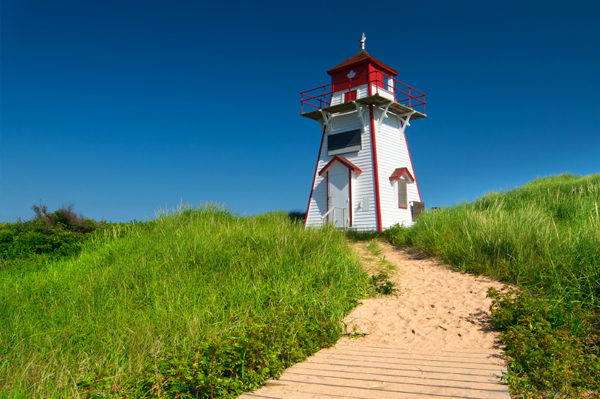 Not just about the potatoes and "Anne of Green Gables"
Where: Charlottetown, Prince Edward Island (PEI)
Regis and Kelly sang the praises of this stunning province while hosting their live morning show in the city's Confederation Landing Park. Explore stunning red sand beaches, fresh seafood, great hiking or biking along the Confederation Trail, and perhaps lend a hand as a guest at one of the island's agro-tourism farms.
Ontario Cottage Country
Check the entire family into the Delawana Inn Spa and Conference Resort and check off of worrying about anything! Located in the heart of Muskoka cottage-country, there are endless options for fun: fish off the dock, learn to sail, waterski or windsurf, or simply grab a book and relax while the kids check in to a variety of half-day camps.
Fall head over heels for Niagara Falls (just not over them!)
Not just a honeymoon haven, Niagara Falls is a great destination choice when vacationing with children. A ride on the classic Maid of the Mist will have the kids squealing with delight as they get an up close and personal taste of the thunderous falls. If you dare, take on the Fear Factory Haunted House or the fun houses that are all but institutions in the area. As you wind down your day, be sure to check out the free daily fireworks display.
Rocky Mountain, Hi!
Where: Banff, AB
A must-do if planning a visit westward. Grab your hiking boots, sunscreen and snack-filled backpack and enjoy one of Alberta's most stunning parks. Banff is a year-round playground with great canoeing, hiking, cycling and adventure-geared options such as whitewater rafting down the Bow River as you spot oodles of wildlife.
Enjoy the island life in BC
A perfect family fit for your summer vacation needs, Vancouver Island offers a plethora of options and attractions. Be it camping just outside of Victoria, staying in town to enjoy the museums, visiting local Beacon Hill Park and the Children's Farm, or riding along the Galloping Goose Trail, you'll find easy ways to pack each day. Venture aboard a tour bus and stop at the famous VanDusen Botanical Garden or head up along the northwest coast and take in the breathtaking Tofino surf.
More travel ideas in Canada