Quick Living Room Decorating
The typical living room has many purposes, from conversation, relaxation and entertaining to home office and children's play area. Its popularity means a makeover benefits everyone in the house, yet the project doesn't have to be complicated. If you don't have tons of time on your hands to renovate your living room space, try these makeover ideas -- all designed to give your living room a brand new look in less than 10 minutes.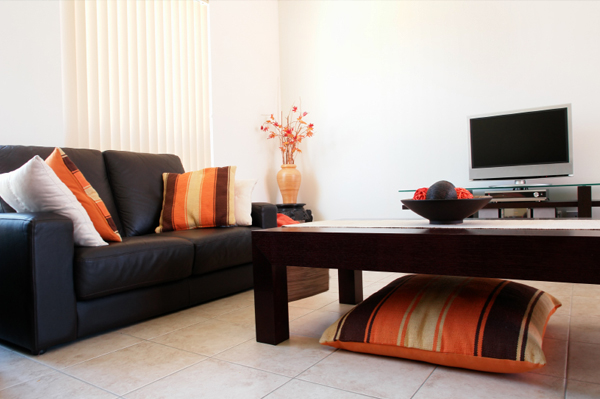 Rearrange the room
One of the quickest and easiest ways to renovate any space is to rearrange your furniture. Take a few moments to visualize the different places and space you have available, and then choose the option that best suits your needs.
For example, reorganizing your tables and couches to face the opposite direction from their original spots or placing your furniture at different angles can give your room an entirely new look. You might even wind up with more space in the process.
Doll up your furniture
Adding accessory pieces can help you achieve your makeover goals without much time at all. Decorative pillows are great for making a subtle yet noticeable change to your furniture.
Toss a few on your sofa or chair to complement your living room's color scheme and give your furniture a classier, more elegant look. Add a quilt to your chair or sofa to create a warm and hospitable atmosphere.
If you want to change your sofa's color or print but you don't want to buy a new sofa, try a throw or slipcover to create a brand new look within minutes.
>> See our picks of some sofa and chair slipcovers
Ornament your Table
Don't toss out your magazines: Use them as ornaments for your coffee table by neatly stacking them on the bottom. Or, place your magazines in a wicker basket to decorate your end table. Use your coffee table to store photo albums, which add interest and serve as great conversation starters.
Deck the Walls
Hang decorative signs that tie in with your living room's overall theme. Whether they're spiritual, inspirational or simply pretty, they add depth and personality. Plus, your living room will be cozier when everything from the walls to the floor is coordinated.
Switch up the lighting
If you use your living room for relaxing, don't forget to include table lamps in your makeover process. Although lamps placed on end tables can enhance your living room's decor, you can also use them to switch up the atmosphere. For example, colored light bulbs can help you set a mood with warm colors or a soft glow.
More 10-minute makeovers:

>> Get DIY tips, tricks and techniques to make your home better than ever!