Fast Bathroom Decorating Tips
Do you ever wonder how your bathroom's setting affects your morning routine or nightly regimen? We spend more time in the bathroom than we realize. No matter the size of your bathroom, it should have a cozy atmosphere so that you can start off your busy morning relaxed and end your long day unwinding comfortably. Creating a serene ambiance for your bathroom can be quick and simple -- in fact, you can make it happen in less than 10 minutes. Here's how.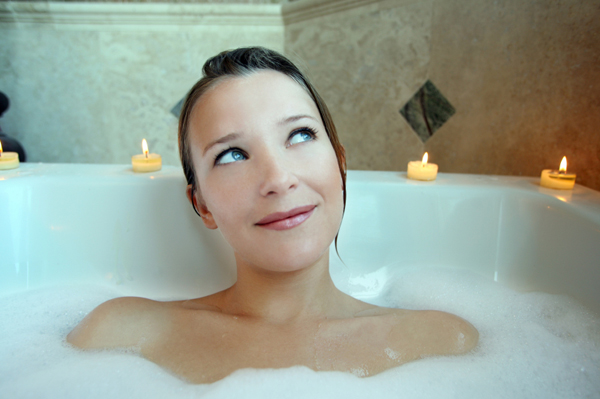 Switch up your color scheme.
Add a rich solid-color or patterned shower curtain to build a vibrant color scheme. Shower curtains are available in all kinds of patterns and styles ranging from fun to elegant, which makes it easy to achieve the personality you're after.
Accent with towels.
Bring more style into your bathroom with decorative towels. Change out your hand towels and put down bath rugs that coordinate with your new shower curtain. Add a few oversized towels to give your bathroom a luxurious feel. Place rolled-up towels in wicker baskets for a soft, elegant touch.
Get organized.
Organize your personal products in your cabinets and storage spaces to rid your bathroom of clutter so that you know exactly where your hairspray and makeup items are on days you're running late. This would include tossing out your favorite -- but empty -- shampoo and body wash bottles.
Create a spa experience.
Adding candles to a room can make the atmosphere more intimate, relaxing and cozy. Place lightly scented candles in candleholders around the tub to give yourself a spa treatment experience when it's time to unwind. Store a portable CD player in the corner of the bathroom or in the cabinet so you can relax to soothing music.
Stock up in style.
Fill a small wicker basket with toilet paper to keep your supply accessible and give your bathroom a chic and stylish look. If you are pleased with how the wicker basket complements your other bathroom accessories, consider adding a matching wicker hamper.
Tidy up your countertops.
Last but not least, finish off your 10-minute bathroom makeover with a quick wipedown for a more polished look. Straighten up your countertops by reorganizing your bathroom accessories, such as your toothbrush holder, soap dish and lotion dispenser. For a tropical or beach look, fill a glass jar, bowl or basket with seashells, or put some seashells on the back of the toilet.
More ways to makeover your bathroom
5-Minute bathroom cleaning tips
Lifestyle expert Lainika Johnson-Colbert gives some tips on fast ways to keep your bathroom looking clean and fresh.
more decorating ideas for your bathroom:
More From SheKnows Explorer