Fruit Your Kids Will Love
If it feels like your efforts to strive for five are getting your kids nowhere, try putting a little fun back in your family's fruit! Kids of all ages will enjoy these creative ways to banish the banana blues and alleviate apple anxiety, not to mention add some flavor and texture back into your days.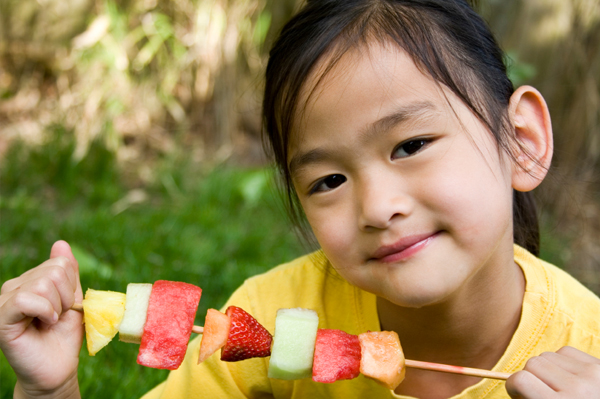 Freeze it
Freezing fruit is a great way to preserve it, but it's also a fun way for kids to cool off in hot weather. Wash and dry berries, then pop them in the freezer individually, or create banana pops by peeling bananas, cutting off the ends and inserting popsicle sticks before freezing. Fruit slices and berries also can be frozen into ice cubes and used to naturally flavor water.
Skewer it
Fruit kebabs not only allow you to add a variety of fruit to each skewer, but are easy grab-and-go snacks for kids on the move. Clean, pit and chunk fruit as needed before threading onto skewers. Top off with a marshmallow and chill. This works particularly well with strawberries, bananas, pineapples, apples, melons and grapes.
Dip it
Who isn't tempted by a little chocolate in their treats? Melt chocolate in a microwave or hot-water bath (break into small pieces to encourage melting) and stir smooth. Dip strawberries, cherries, grapes, melon slices and bananas. Lay onto a waxed paper-covered baking tray and chill or freeze until chocolate is set. Leftover chocolate? Drizzle over raspberries or fresh orange slices.
Set it
The fruit mold may have been more popular in times gone by, but children still love wiggly, jiggly gelatin. Capitalize on this love affair by setting fruit such as shredded apples, blueberries or cut strawberries right into it. If you choose to use pineapple, kiwi, papaya, mango, oranges or peaches, eat soon after setting, as these fruits contain enzymes that can break down the gelatin.
Blend it
Fruit shakes and smoothies are incredibly versatile. You can serve them as breakfast, a snack, a treat at dinner or even as a dessert. To make a delicious fruit shake, blend about 7 ounces each of your desired fruits with about 1 cup milk and a scoop or two of vanilla ice cream. To make a nutritious smoothie, eliminate the ice cream and add in some ice cubes.
Mix it
No time for prep? Just cut up some fruit and throw it in your kids' cereal, oatmeal, yogurt or on top of ice cream or frozen yogurt. If you have dried fruit on hand, add it to dry cereal and pretzels, and voilà: Homemade trail mix.
Vary it
No matter what you choose to do with your fruit, remember that even the most inventive recipes and appealing presentations becoming boring if they are used too frequently. Vary your fruit to keep everyone's taste buds tingling.
More healthy & kid-friendly snacks
How to prepare healthy snacks for your kids
Join SheKnows' Shay Pausa as she goes down to the pantry to get easy tips from nutritionist Michelle Dudasche on preparing healthy snacks for your kids.

More fun fruit recipes for kids: