Mom Advice: Organization Tips
Being organized as a mom is a never-ending job. From organizing the family schedule to keeping track of the grocery list, moms require a PhD in organization. Here are some easy tips to help you be one organized supermom.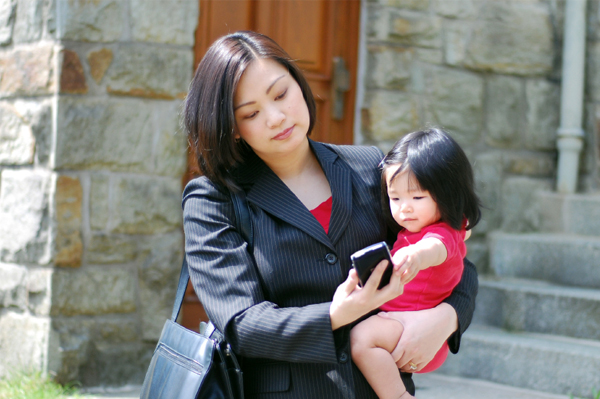 Organization Tip 1: Organize on the phone
Get a smart phone. What makes it so smart? It consolidates your phone, calendar, address book, music, email, shopping lists and more. Sure, it's going to be expensive, but it'll be worth it in the long run. Basically, a smart phone is like a second brain.
Mom tip: Top 5 technology must-haves to organize busy families >>
Organization tip 2: Organize as a family
We get that it's normally Mom who organizes the family calendar, but here's a tip: With so many shared calendar platforms online, there's really no reason why you can't share the responsibility of organizing the family calendar with the entire family. Everyone can plug in dates, appointments and reminders in the family calendar program. It will alert each family member of her schedule, relieving you of your duty of human Post-It note and helping everyone stay more organized. Google Calendar offers an easy way to organize your family schedule online, but typing "free online calendar program" into any search engine will yield several options. Give a few family calendars a test and see what program suits your organization style best.
Mom tips: 10 favorite organizers & calendars for moms and Real moms share their organization tips >>
Organization tip 3: Organize the rules
No amount of planning and organizing is going to matter if last-minute wrenches are thrown into your perfectly organized plans. And with a large family, the last minute can sometimes seem like the only time anything gets done. Announce a few new organization rules to your family:
Let your kids know that, if they need a ride somewhere, they have to get it on your calendar at least 24 hours in advance.
Ask your husband to mark his business trips two weeks before taking off. When you have a firm sense of your time, you'll be better able to organize it.
Mom tip: How to juggle the family schedule >>
Organization tip 4: Find time to organize
Unless you're a rare bread of Super Mom, organization isn't your favorite hobby. So, if you're going to organize, you need to organize some time for you to organize. Got it? Make a conscious effort to set aside a chunk of time weekly to get your life organized: catch up on the calendar, schedule upcoming doctor's appointments, plan a grocery list, etc.
Mom tip: How to wow others with your organization skills >>
Here's to taking a few easy steps that will save you a million steps down the road. You know how Grandma always said a stitch in time saves nine? Now we all know what that means.
How to organize your family and home
Freshen up with the family
Cleaning your home can seem like a daunting task, but it is much easier and more enjoyable when the whole family gets involved. SheKnows offers easy ways to organize, assign, involve and reward your family for cleaning.
More ways to get organized:
---
The opinions expressed in this article are of the author and the author alone. They do not reflect the opinions of SheKnows, LLC or any of its affiliates and they have not been reviewed by an expert in a related field or any member of the SheKnows editorial staff for accuracy, balance or objectivity. Content and other information presented on the Site are not a substitute for professional advice, counseling, diagnosis, or treatment. Never delay or disregard seeking professional medical or mental health advice from your physician or other qualified health provider because of something you have read on SheKnows. SheKnows does not endorse any specific product, service or treatment.
More From SheKnows Explorer