Memorial Day Getaways
Since Memorial weekend is all about ringing in the start of summer, well the unofficial start of summer we tried to find the best camping and beach destinations as well as some festivals and events happening over Memorial weekend!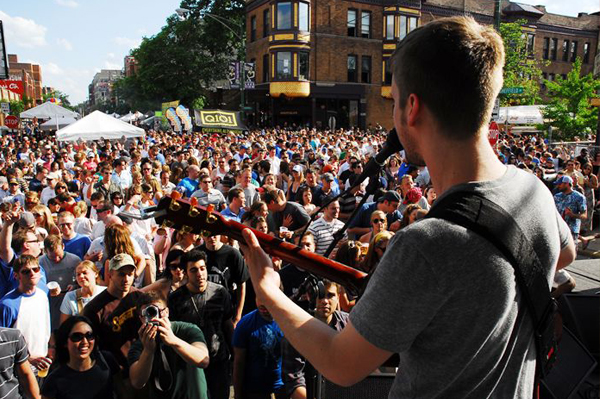 Chicago
The Windy City is a great place to escape to this Memorial weekend, especially if you are interested in getting out of town but still want the excitement of a city getaway. Over the weekend Chicago will host the 28th Annual Belmont Sheffield Music Festival, which celebrates and reflects on the style and music of one of the 'hippest' neighborhoods in Chicago. There are also plenty of sights, shopping and farmer's markets perfect for all ages. Another don't miss event is the Memorial Day Parade Wreath Laying Ceremony , which is one of the Nation's largest parades with well over 10,000 spectators each year.
Yellowstone National Park
Yellowstone National Park is probably better known for "Old Faithful" and the geysers but there are plenty of things to see and do while visiting the park. At Yellowstone you can also fish, hike, bike, camp, go boating and explore the wild (safely of course). This is the perfect outdoor holiday for families because no matter what you decide to do on your stay you can soak in the 'out of this world' scenery at the park.
With over twelve campgrounds and nearby lodging there are accommodations for everyone. Just a hint for those who haven't camped in a national park before, the campsites have less amenities then private campsites, so that they can continue to preserve the park. For more helpful tidbits and planning your trip, check out the National Park Service.
Seattle
Over Memorial weekend look no further then Seattle if you are looking for arts and fun, which will be celebrating the Northwest Folklife Festival. This festival is the annual celebration of the Northwest region and culture and will have music, art and performances inspired by the traditional arts of the Northwest. There are over 6,000 performers, almost 2,000 volunteers and roughly 250,000 people visit this event. This is a free event however donations are recommended and appreciated, there are also plenty of vendors where you can pick up anything from food to arts and clothing made by one of the many artists or supporters.
Lake Mead, Nevada
If you are looking for a lake to take your boat out and celebrate the start of summer then Lake Mead is perfect for those of you looking for some water action. Located 30 Miles from Las Vegas, Lake Mead is a beautiful place to spend the long weekend with your family or friends. There are so many great things to do like biking, hiking, fishing and horseback riding, so if you start getting water logged there are plenty of things to keep you busy. While you are there remember to stop by The Hoover Dam for a visit.
St. Croix
St. Croix is located in the Caribbean Sea and is the largest of the United States Virgin Islands. This vacation spot is perfect for a Memorial weekend getaway and will have you ready for summer in no time. St. Croix offers some of the best diving locations from colorful coral reefs to bay wrecks and with the water temperature an average of 82 F (29 C) you'll never want to leave. So if you are in dire need of an island vacation then the beaches, sun and diving at St. Croix are perfect for you and your family.
Gila Cliff Dwellings, New Mexico
The Gila Cliff Dwellings in New Mexico are an amazing sight--you get to glimpse into the lives of 10-15 Mogollon families who lived in the dwellings more than 700 years ago. The cliffs themselves were created by volcanic activity and are awe-inspiring. This is perfect camping destination for the family because the guided tours and hikes are great for all ages. If you want to visit the Dwellings it is suggested to make plans at least two weeks in advance so that you can make sure you have a reservation for the guided tour.
Miami
If you are looking for a party this Memorial weekend then you will definitely feel the heat in Miami. Each Memorial weekend thousands of people flock to Miami to enjoy the beaches, the clubs and the hip-hop festival, so if you and your friends are looking to cut loose, see 'celebs' and party all weekend, South Beach is the spot. There are also plenty of fabulous eateries, beaches and shopping destinations if you need a break from the nightclubs and partying Just be sure to now because 85% of the hotels fill up Memorial weekend.
Sasquatch Music Festival, Washington
If you are into music and I mean in a big way you won't want to miss out on the uber-cool Sasquatch Music Festival at the Gorge Amphitheater. This music festival will have performances by Beck, Tenacious D, The Shins, and The Roots just to name a few. This music-fest seats 25,000 and is comparable to other large outdoor music festivals like Bonnaroo and Lollapalooza.
This is an all ages event with tickets available for the whole weekend ($315). There is also camping available for the weekend -- though keep in mind, there are no hookups.
San Antonio
San Antonio is a perfect city getaway for the family this Memorial weekend and a great place to celebrate the beginning of summer. The San Antonio Zoo, theme parks and the historic River Walk will keep the family busy all weekend long. Each year millions of people walk the lush pathways, enjoy the art and take in the historic River Walk and no wonder why, the River Walk is both gorgeous and breathtaking. This city has so much culture, art and beauty to enjoy, you'll want to spend more then the weekend here.
Moab, Utah
Moab is a camping destination that is for those of you looking for a camping experience that is a bit more extreme, so pack your camping gear, ATV, friends and family and head to Moab. Moab has river rafting, plenty of trails to explore with your ATV or if you feel like being a bit less extreme there are many hiking and biking trails. There are also cabins, motels and rentals so if roughing it in a tent isn't for your family you can still find a place to stay to enjoy all that Moab has to offer.
More Travel Ideas:
Top 20 romantic getaways for Valentine's Day in the US
5 Tips for romantic getaways
Start saving now for your summer vacation