Keeping In Touch
With Family
Why should you start a family blog? In this age of cyber-communication, the days of handwritten notes sharing news of little Johnny's first steps or baby Jane's first words are fading quickly. Blogging has become the new preferred form of communication for sharing family updates. It's a quick and easy way to keep loved ones informed, and the best part? Anyone can do it. If you've been resisting the blogging bandwagon, now is the time to jump on board.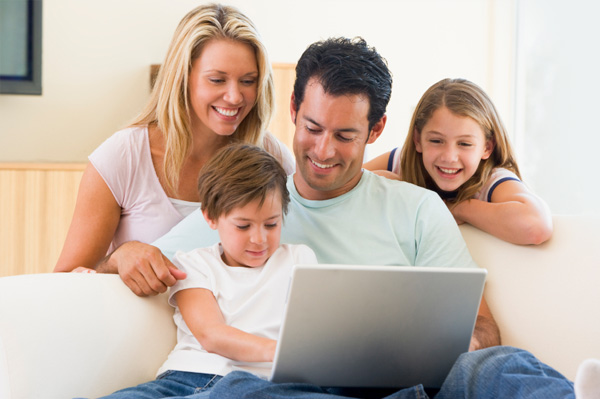 For a growing number of people, blogging is a way to make extra cash. For some, it's a full-time job. But, blogging doesn't have to be all about money. It's actually an effective tool to help families stay connected. Your loved ones can visit your blog on their own time or automatic updates can be sent to them whenever you post new information. If you are intimidated by the "blogosphere," don't be. All you need is a computer and simple understanding of the Internet.
What is a blog?
According to Darren Rowse, a successful blogger and author of the book, ProBlogger, "A blog is a type of website that is usually arranged in chronological order from the most recent 'post' (or entry) at the top of the main page to the older entries towards the bottom." It really is this simple. A blog is simply a method for publishing content of any sort on the web.
Utilizing free blogging tools online, you can create your very own family web page. Share pictures of your adventures with your children, your favorite recipes, or stories (and photos!) about a recent trip or updates on the new family pet. The content is completely up to you. Sending your URL to your friends and loved ones is like giving them an invitation to stay in touch.
Why blog?
As busy parents, we simply do not have the time to send out cards and letters stuffed with pictures every time we have news to share. Blogging allows us to share a slice of life with those we love, and it enables distant family and friends to check in on us, without flooding them with more stuff to throw in their junk-drawers. It's quick, easy and environmentally-friendly.
Lorie Kennedy, a wife and mom of two young boys from Phoenix, Arizona, started her family blog just a few months ago. "I had a couple of friends who had them, but I was really against the idea at first," she says. "But, after reading their blogs, I decided to create one when my husband was out of town one weekend. Now, six months later, I am hooked!"
Getting Started
Blogging communities are popping up all over the web. Find one that meets your needs, register and start blogging! Each one offers different features including the ability to track your visitors, security options, available themes, etc, etc. Some of the more popular free blogging hosts are:
Customize Your blog
Each of the blogging sites mentioned offer free templates. Some are relatively plain while others are pretty elaborate. You can choose backgrounds, banners, headers, sidebars, post dividers and "buttons" that reflect your family's personality (note: a button is a graphic element that can either include a picture, saying or call to action -- such as "comments are appreciated.").
"I was surprised how easy it was," says Kennedy. "Even when I started learning how to post pictures, change layouts, add backgrounds. It was all super easy…and fun!" Here are some sources for cute blog accessories:
Posting to Your Blog
Think about who will be reading your blog. Most often, your visitors simply want to know what's going on with the you and your family. Keep your posts short and sweet and be sure to edit the pictures. In other words, people will visit your blog for a quick update, not a manifesto. Resist the urge to share your vents (unless of course they are entertaining, brief and pertinent) or share every single picture from your recent trip to the zoo. Pick the best of the batch and your visitors are sure to return for more. Also, try updating your blog on a consistent basis, for instance, every Saturday. Nothing drives an audience away faster than sporadic updates.
Blogs can even become family keepsakes! You can publish your blog in book-form each year if you'd like. For more information, visit Blurb or Blog2Print.
Armed with this information, you are ready to put your mark on the blogosphere! Go forth and conquer. Happy blogging.
Check out our fabulous SheKnows blogs:
Want to get connected? Give and get advice from other moms on our Parenting message boards.