Party All Winter
The party doesn't have to stop in winter. Continue the New Year's celebration and resist the laziness of the brisk season by traveling to one of these fabulous winter festivals. The events offer something for every taste including art, music, extreme outdoor activities, food and more.
(page 2 of 2)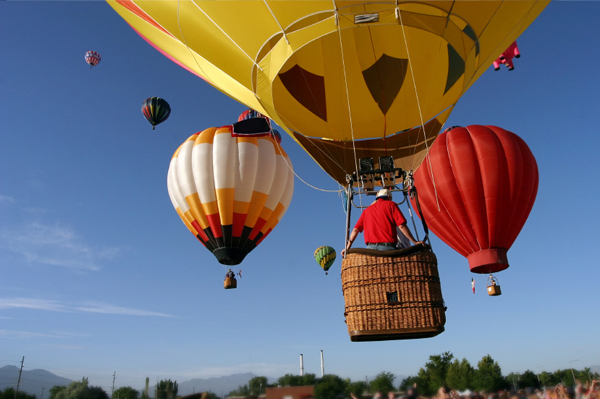 5. Bluff International Balloon Festival, Utah
Children and adults alike will flock to the Bluff International Balloon Festival in Bluff, Utah from January 16 to 18, where a spectrum of vibrant balloons from Texas, New York and even the United Kingdom soars through the air.

Balloonists will also arrive early to teach children about flying. The success of this festival has resulted in improved educational programming for local children, support for Utah artists and rehabilitation of local parks.
6. Sun Valley Nordic Festival, Idaho
Ski lovers, unite: The first Sun Valley Nordic Festival will be held in Idaho from January 30 to February 7, and feature nine days of activities, races, clinics and more.

Some highlights of the festival include Ski the Rails, a family-friendly "ski at your own pace" tour along the Wood River trail; Nordic Night of Champions, a send-off celebration for local Nordic skiers who will be participating in the 2010 Olympic Games; and the Sun Valley 5K Snowshoe Challenge.

"The Sun Valley area is a hidden gem, offering 200 kilometers of Nordic terrain groomed to perfection," says Carrie Westergard, Sun Valley/Ketchum Chamber and Visitors Bureau marketing director. "We have staked our claim as 'Nordic Town USA,' which will be widely recognized as visitors experience the vast trails, lodging ranging from rustic to 25,000-square-foot luxury accommodations, plus alpine day lodges, quaint towns and villages, and activities for the entire family."
7. Bethel Winterfest 2010, Maine
Join this small western Maine community in its winter spirit by participating in 2010 Bethel WinterFest from January 23 to 31. This year's activities include a snowmobile hill climb at Mt. Abram Ski Resort, a Nordic biathlon primer at the Bethel Inn (learn to ski and shoot just like in the Olympics), an old-timers' Nordic ski day with old-fashioned clothing and skis, snow and ice sculpting, snow-grooming-machine rides, hot-air ballooning, a snowboard rail jam on the town's Main Street, and discounts on lodging and winter activities.

"Most people think of wintertime in Bethel as a place where people practice alpine skiing, but we are so much more, and the Bethel WinterFest 2010 will offer something for everyone… From good old-fashioned ice skating, to enjoying a horse-drawn wagon ride, to taking a ride in a hot-air balloon," says Robin Zinchuk, executive director of the Bethel Area Chamber of Commerce.
8. Napa Valley Mustard Festival, California
Mustard season, from January to March, is among the most beautiful times to visit Napa Valley, California. The 17th annual Napa Valley Mustard Festival offers guests food, wine, art and various events to enjoy during the period.

Mustard Magic, the grand-opening event, will launch the season on January 30 at Napa Valley's acclaimed Culinary Institute of America at Greystone in St. Helena.

Guests also have a chance to bid for luxurious trips, art, and unique food and wine experiences at both a silent and live auction to be held that night. Tickets for the Mustard Magic event are available online at mustardfestival.org or by calling (707) 938-1133.

During this time, the destination also offers a variety of mid-week Mustard Season specials that provide visitors to the Napa Valley with valuable savings on accommodations, winery tours and tastings, and much more.
9. Old Time Fiddle Festival, California
Bring your dancing shoes and a listening ear to the Old Time Fiddle Festival, set for January 23 and 24 in Cloverdale, California.

This festival draws fiddlers from all over for some friendly competition and good, old-fashioned fun. This year, the festival has added three new contest divisions and a band scramble. As always, there will be jamming sessions, plus handmade crafts and food for sale.

The festival helps preserve the historic fiddling culture and tunes, helps develop audience appreciation and understanding, and acknowledges today's musicians who are carrying on this traditional music genre.
10. Knickerbocker Ice Festival, congers, New York
Who knew helping the environment could be so fun?

The Knickerbocker Ice Festival, celebrating the Hudson Valley's 19th century ice industry, is January 23 and 24 at Rockland Lake State Park in Congers, New York.

At the festival, people will learn what they can do to help decrease their footprint on the planet. Knickerbocker will feature ecological and earth-friendly products, services and educational events to demonstrate how we all can be more earth-friendly.

Hydrogen-powered SUVs from General Motors will shuttle people around the event, LED lights will illuminate the ice carvings, pathways and ice gallery, and the food court will feature exclusively biodegradable cutlery, cups, plates and bowls made entirely of organic material that looks and feels like plastic.

The Ice Festival features various activities including an ice-sculpturing invitational, a KIDZ Ice Park, Artists In the Parks, Cool Crafts craft tent, Knick's Canteen, the Cold Rock Café, an historic ice gallery, history and shopping tours, and more.
more travel on SheKnows;