Green Giving
'Tis the season for giving. And with that is the season for wasting. This year instead of buying unwanted gifts that gather dust in people's closets or pile in landfills, choose green gifts that give back in a good way. SheKnows offers 20 great green gift ideas to get you started:
(page 2 of 4)
Wagging Green pet products
Your furry friends can go green, too. With each purchase of the Wagging Green's line of pet products that includes collars, leashes, harnesses and more, you support green charities. Best of all, your pets' collars will be odor-free, as the products are made from bamboo. They are also 100 percent biodegradable. Prices vary.
Wrap-N-Mat
The Wrap-N-Mat is perfect as a stocking stuffer for your children or a gift for your co-workers. It provides a clean mat to place food and eliminates the need for plastic baggies, which clutter landfills with more than 20 million being discarded daily, according to growandmake.com.
'I have been using the Wrap-N-Mat to make and wrap my daughters' sandwiches for school over the past year,' says Will Johnston, sustainable living expert at GrowandMake.com. 'Not only is it a great time saver, it also eliminates the need for wasteful plastic wrap. It's easy to use and cleans off quickly.' Cost, $6
Green Toys Inc. Recycling Truck
Even kids can go green with this unique line of classic children's green toys from Green Toys Inc. that is made from 100 percent recycled milk jugs and other environmentally friendly materials. The raw materials aren't shipped from overseas, which helps reduce fossil fuel use and greenhouse gas emissions, according to growandmake.com. Cost, $24
Reusable shopping bag
Avid shoppers on-the-go will love Flip & Tumble's 24-7 reusable bag that rolls into a small ball (about the size of a peach) and comes in a variety of bright colors. A reusable bag can easily save 1,000 plastic bags in a lifetime, according to the company's website. When your reusable bag's life is over, just send it back, and Flip & Tumble will recycle it. Cost, 1-2 bags, $9 each; 3-6 bags, $8 each; 7 or more bags, $7 each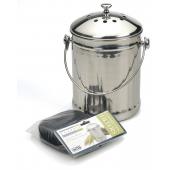 Stainless steel compost pail
This odorless, countertop composter is the perfect gift for gardeners and others with green thumbs.
'We have been using the RSVP stainless steel compost pail at our home for the past two years,' Johnston says. 'Not only is it attractive on the countertop and a great conversation piece in the kitchen, but it simplifies the composting process. We have reduced our garbage use by 25 percent since we started composting and have wonderful compost soil for our yard and garden.' Cost, $39.99
Next up: Worldly Holiday greetings