Leaf Peeping
At Its Best!
Does the crisp, cool air of autumn remind you that summer is gone? Is the call of fall colors awakening the leaf peeper in you? Don't wait a moment longer. Take a fall color drive before all the leaves have drifted to the ground.
(page 2 of 2)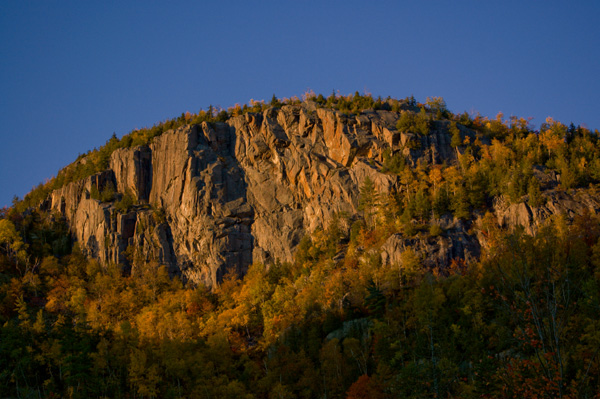 New York
Autumn in New York State's Adirondacks will keep leaf peeper's binoculars and cameras busy with color opportunities. Start off with six million acres of forest, lakes, and quaint towns at a variety of elevations. Add in 14 National Scenic Byways sprinkled with autumn fairs and festivals with many historic sites along the way. You won't have to look too hard for a pumpkin stand or some apples to take home for baking. Enjoy the fall foliage from your car, bike, and canoe, on horseback or hiking along a quiet trail. Just take it slow and enjoy.
New York Autumn Color Hotlines: 1-800-225-5697
Virginia
Be sure to have a camera in hand when you leaf peep along Skyline Drive of the Shenandoah National Park. Stop at one of the many overlooks to photograph the panorama of autumn colors. Mountains, ridges and meadows are ablaze with golds, purples, crimsons, browns, and oranges. Among vegetation contributing to this display are hickories, birches, maples, dogwoods and sumac saplings. The purple asters, yellow goldenrods, golden ferns and bright red Virginia creeper vines are other park plants adding to the display. For a slower pace, hike one of the many beautiful trails and listen to the crunch of the leaves beneath your feet. Then, stay the night at one of the park's three lodges for more of the same the next day. Many fall festivals are to be found in the area during the autumn season.
West Virginia Autumn Color Hotlines: 1-800-225-5982
Missouri
Do you long for the quieter days of Tom Sawyer and Huckleberry Finn? Then, the Mark Twain National Forest and Ozark National Scenic Riverways is where you want to be this autumn. Viewing a rainbow of fall colors from the vantage point of a canoe on one of the Ozarks' 350 miles of floatable rivers and streams can take you back in time. You may even glimpse a bald eagle, osprey, wild turkey, beaver, or possibly even a bobcat as your canoe quietly slips through the water. Doing your leaf peeping from one of many scenic hiking trails is a good alternative if canoeing is not your cup-o-tea. Mark Twain National Forest, with its 1.5 million acres spanning 29 counties, will not leave you bored.
Missouri Autumn Color Hotlines: 1-800-898-8895
Utah
The striking sandstone canyons, high plateaus, rock towers and mesas of Southern Utah's Zion National Park are amazing all by themselves. Add in the colors of Mother Nature's autumn artwork and you'll be glad you have your digital camera along. Zion's changes in elevations and plant life offer a variety of color from early October to mid November. Expect to see aspens in Zion's high country, hardwoods on the east side, and the riparian trees at the bottom of the canyon. The riparian areas offer the greatest variety of color in deciduous trees, ferns, wildflowers and mosses all splendid in their varying shades of red, yellow and orange.
Texas
Drive 71 miles west of San Antonio and you'll find the Lost Maples State Natural Area, designated a National Natural Landmark, alongside the Sabinal River. Here, the diversity of deciduous trees creates a kaleidoscope of color, especially beautifully reflected in the park's creeks, ponds, and two small lakes. Sprinkle in the textures of its limestone cliffs, and deep canyons for even more of a scenic lure. The dazzling shows of color, especially from the big tooth maples, entice multitudes of visitors during the November peak fall color season. Eleven miles of hiking trails within the 2,208-acre provide lots of opportunities for relaxing hikes and lots of leaf peeping.
Quebec
Anywhere in Quebec is unbelievable when it comes to autumn colors, but you needn't go far beyond Montreal Island to be dazzled. The number one leaf peeper locations for a stunning stroll among the colors, however, is Mount Royal Park on Montreal Island. There, a background of the city's skyscrapers is framed by color, color, and more color. It doesn't stop there, as other colorful Montreal strolls are Angrignon, Maisonneuve and Jean-Drapeau parks. An extra special treat is the Chinese Lantern Festival at the Botanical Garden, which runs every evening until November 1st. With Halloween creeping closer, you may want to take your leaf peeping to Mount Royal's two large and spooky graveyards, Notre-Dame-des-Neiges and Mount Royal cemeteries, where you can invite along a friendly ghost or two on your autumn leaf viewing experience.
Quebec Autumn Color Hotlines: 1-800-363-7777
Do your autumn research!
These suggestions only scrath the surface of leaf peeping possiblities. Decide how far you want to drive, how much time you have, and how much your budget can handle. Quickly do a little research, then hop in the car and go! Those leaves won't be there forever!
U.S. Forest Service offers a toll-free number -- (800) 354-4595
Other great Autumn color hotlines
Maine 1-800-533-9595
Massachusetts 1-800-277-6277
Minnesota 1-800-657-3700
Montana 1-800-847-4868
New Hampshire 1-800-258-3608
North Carolina 1-800-847-4862
Tennessee 1-800-697-4200
Fall craft idea
How to make a Fall leaves card
More Autumn activities
Bring the flavor of autumn inside
10 Autumn doorway accents
Fresh pumpkin centerpiece