Love Is In The Air
Love conquers all, even a bad economy. While you're scrimping and saving to afford a once-in-a-lifetime honeymoon or special vacation, use the downtime to scope out 10 of the planet's most romantic destinations -- so when you're good to go, you'll know where to go to make memories that last a lifetime!
(page 8 of 10)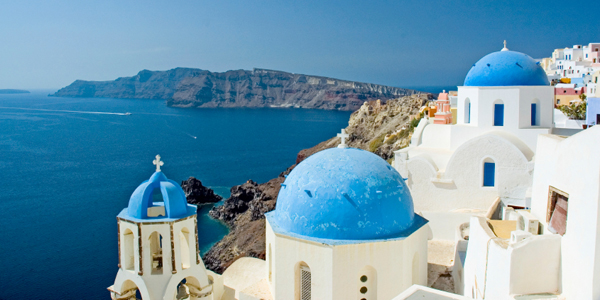 8. Santorini, greece
"Kali mera" is how one greets the day in Santorini, where blue and white is the color scheme. Blue skies overhead and blue water below are the backdrop to charming whitewashed houses clinging to the hillside. The Caldera of Santorini, formed more than 3,500 years ago by a huge volcanic eruption, is now the harbor and seascape for Santorini. 
Arriving at the main port, visitors walk or take a donkey ride along the mile-long path up to Fira, or hop a cable car to the top. For the best view at sunset, lovers travel to the quaint village of Oia on the north side of the island. Sunset is even more enchanting from the top of Oia's 16-century castle ruins. A boat tour to the Santorini volcano and nearby hot springs may be on the agenda, and those more energetic may even include a climb to the top of the volcano. As in Pompeii, ruins of a city devastated by a catastrophic volcanic eruption mesmerize visitors to Akrotiri. Santorini will capture lovers' hearts with its vistas, beaches, wineries and amazing cuisine.
Next...A necklace of islands...