Love Is In The Air
Love conquers all, even a bad economy. While you're scrimping and saving to afford a once-in-a-lifetime honeymoon or special vacation, use the downtime to scope out 10 of the planet's most romantic destinations -- so when you're good to go, you'll know where to go to make memories that last a lifetime!
(page 7 of 10)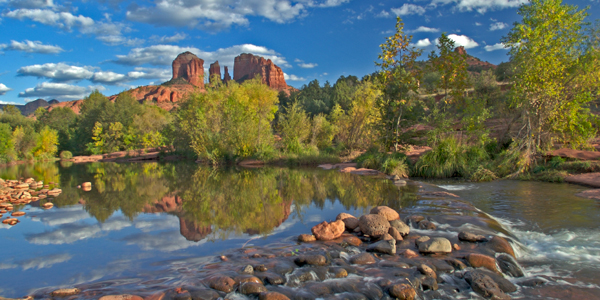 7.    Sedona, arizona
Sedona, Arizona sure has the "Wow!" factor when it comes to romance! Its majestic red sandstone rock formations and breathtaking 360-degree vistas entice lovers outdoors with beautiful hiking trails, horseback riding and mountain biking. Floating silently over the serene rock formations in a hot-air balloon can easily lighten one's heart and stir romance. The power of Sedona's Vortex meditation sites are another uplifting experience for two. Quiet, hidden canyons and Native American ruins can be explored on foot or by Jeep tours. Shops offer local crafts, jewelry and clothing, as well as delicious fudge made on the spot, and galleries of world-class art are sprinkled all over town. Romantic dinner options are many, including Dahl & Di Luca's Ristorante Italiano, where a private table for two makes the rest of the world disappear.
Next...A Seascape Paradise...