Love Is In The Air
Love conquers all, even a bad economy. While you're scrimping and saving to afford a once-in-a-lifetime honeymoon or special vacation, use the downtime to scope out 10 of the planet's most romantic destinations -- so when you're good to go, you'll know where to go to make memories that last a lifetime!
(page 5 of 10)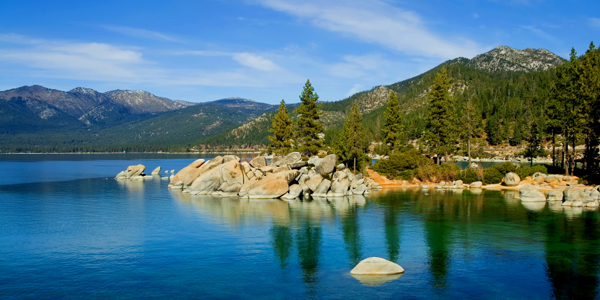 5. Lake Tahoe, nevada/california
Lake Tahoe, America's second-deepest crater lake -- a turquoise jewel of crystal-clear water -- is set in a panorama of greenery and mountain peaks. Along the border between California and Nevada, Tahoe offers something for everyone, especially lovers. The variety of lodging opportunities in the Tahoe area include cabins, condos, resorts, hotels, B & Bs and camping, too, for those who want to rough it.
The green mountain vistas are amazing and invite romantic walks along quiet, picturesque paths framed with colorful wildflowers. For those more inclined to a faster pace, adjacent Stateline fills the void with casinos and big-name entertainment. Activities to keep a happy couple busy are boundless and include horseback riding, windsurfing, hiking, golfing, skiing, picnics and hot-air balloon rides. Blissful Tahoe evenings can begin with a sunset dinner or champagne cruise and end with kisses under a star-studded sky.
Next...The Magical Islands...