12 Female Motorcyclists
You might picture a biker chick as a dirty, foul-mouthed, tattoo-covered woman riding on the back of her man's bike. But female motorcycle riders all over the world are breaking the stereotype. They are girly girls who love a good lipstick and a great pair of heels. They are mothers, grandmothers, writers, teachers, nurses and business owners. They are smart, independent, accomplished women, who also love to ride their own bikes. We had the opportunity to talk to 12 of these wonderful women about their motorcycles and their lives.
(page 4 of 4)
Eldonna Lewis Fernandez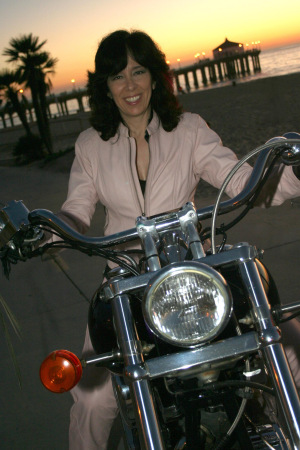 Eldonna Lewis Fernandez is Harley riding bad biker chick. She's also a military veteran and girlie girl who loves PINK!
She Knows: What do you find most enjoyable about riding?
Eldonna Lewis Fernandez: I started riding in Jan 1996 and find it enjoyable and empowering. I had horses when I was a teenager and went from Horses to Harleys. The feeling of the open road is total freedom. I ride a 98 Softail custom and am 5'5, 125 pounds. It's a big bike for some men let alone a petite woman and gives me the feeling of total empowerment to handle and maneuver something that size and weight with grace and ease. It's a stress reducer. I live in Los Angeles and my favorite ride is north up the coast through Malibu. If I'm having a bad day, I can hop on my Harley, start it up and produce an instant smile. It gives me joy and strength. I am passionate about the lifestyle and taking long rides. I've ridden across Europe and parts of the U.S. It's an amazing adventure that starts over with each ride.
She Knows: In what ways do you break the stereotype?
Eldonna Lewis Fernandez: I have been told the stereotypical woman rider is big, burly, tattooed and dirty. I am the furthest from any of those descriptions. I'm very feminine, classy and refined. I have my nails done and wear my pink lipstick when I ride. When people I meet find out I ride a Harley, they are amazed and surprised. No one would guess I'm a biker from just looking at me. I may be feminine and girlie but I can ride circles around many people and have the miles to prove it. I will hop on my bike and take off somewhere for a weekend by myself just to get away and relax. Its the most invigorating feeling being on your own with just yourself, your bike and the open road … oh and of course a tube of lipstick and some mascara to make sure you look cute when you pull up to your destination!
Kyle Sheldon-Chandler
Kyle Sheldon-Chandler obtained her motorcycle license at age 49. She's a grandma and business owner.
She Knows: When did you start riding?
Kyle Sheldon-Chandler: I started riding dirt bikes at age 46. Then my goal was to get my street license before I turned 50. I took the Colorado State class and achieved my goal at age 49.
She Knows: What do you find most enjoyable about riding?
Kyle Sheldon-Chandler: This is an amazing experience! I love riding as it is empowering to be able to ride my own motorcycle. I do wear a helmet and guys in cars will wave or nod, not knowing I could be their mom! It is a skill that I enjoy having and it is rather freeing.
She Knows: In what ways do you break the stereotype?
Kyle Sheldon-Chandler: I am a grandma, first of all, next - I love all kinds of sports, carry a concealed weapons permit, make my own soap and lotions, can my own vegetables and fruits, cook really well, own my own business, love to throw girls-night-out parties at my home (husband is always there because my friends love him), and I am involved in the International Association of Administrative Professionals as the Colorado-Wyoming-Montana Division President. I have a lot of different interests. No tattoos yet but several ear piercings!
Brenna Penrose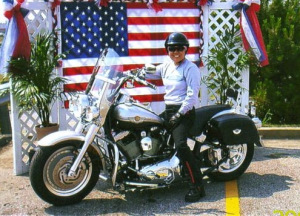 Brenna Penrose practices with Keating Muething & Klekamp's litigation group with a focus on electronic discovery, intellectual property, and construction and real property disputes. Brenna earned her J.D. from the Salmon P. Chase College of Law, Northern Kentucky University, magna cum laude (2005); her M.B.A. from Northern Kentucky University; and her B.S. from Salem-Teikyo University, magna cum laude (1997).
Brenna also is the proud owner and rider of a 100th Anniversary / 2003 Fat Boy (Harley Davidson). She's been riding motorcycles for the past 8-9 years, and she's a member of the National Harley Owners Group and the former Director of the Eastgate Harley Owners Group in the Cincinnati area. In 2003, Brenna and her husband rode in the 100th Anniversary Harley Davidson parade in Wisconsin and were featured in their international magazine. While you wouldn't know it from looking at this young, petite, conservative-appearing, Asian-American attorney, Brenna is an avid Harley rider.
She Knows: What do you find most enjoyable about riding?
Brenna Penrose: I love to ride on the open road. There's no better way to see the country. I've discovered when I ride my motorcycle for vacation, the vacation starts as soon as I start my bike. There's no waiting, wondering or anticipating having fun. The result is immediate. And riding a motorcycle is the closest thing I've found to riding a horse, aside from the real thing. As a motorcyclist, I belong to a "fraternity" of sort. We all wave to each other and look out for each other. And being a woman rider only heightens that experience. While motorcycle riders are generally open to both passengers and drivers, I get a different respect from others because I drive my own bike. Most of all, I love riding/driving my own motorcycle because I'm a strong independent woman who can do what I want to do. Motorcycling is just one expression of that.
She Knows: In what ways do you break the stereotype?
Brenna Penrose: Per my perception of a biker chick, I break the stereotype in virtually every way. I think of most biker chicks as ones who ride behind their guys, keep their mouths shut and as "old ladies" support their guys through bake sales, doing what they're told and not speaking up for themselves. What fun is that? Why ride behind someone when you can drive yourself? I am married and love my husband, but he knew when we got married that I'm an independent person who can think for myself. I envision most biker chicks as older, rough around the edges and a little scary. By contrast, I'm a young rider in the Harley-Davidson market, short and Asian. I prefer pink bandanas and Hello Kitty shirts over the leather vests (not that there is anything wrong with those, just not my style). At the end of the day though, we all love motorcycles. I just prefer to ride my own.