12 Female Motorcyclists
You might picture a biker chick as a dirty, foul-mouthed, tattoo-covered woman riding on the back of her man's bike. But female motorcycle riders all over the world are breaking the stereotype. They are girly girls who love a good lipstick and a great pair of heels. They are mothers, grandmothers, writers, teachers, nurses and business owners. They are smart, independent, accomplished women, who also love to ride their own bikes. We had the opportunity to talk to 12 of these wonderful women about their motorcycles and their lives.
(page 3 of 4)
Donna Smallin Kuper
Donna Smallin Kuper is a 49 year old woman who is currently writing a book called Confessions of a Chick Biker: Life Lessons Learned on the Seat of My Bike. Donna fills us in on her biking experiences.
She Knows: When did you start riding?
Donna Smallin Kuper: I started riding in April 2006, just one month before my 46th birthday. I got married at a motorcycle rally just three weeks after getting my license.
She Knows: What do you find most enjoyable about riding?
Donna Smallin Kuper: It's all about the journey. Learning to ride has taught me a lot about myself and about life. One of the lessons I learned early on is that you have to look where you want to go. It's like that in life, too. If you're always looking right in front of you, chances are you're going to crash into something. I've also learned that you have more fun when you loosen your grip. Sometimes we hang on too tight when what we really need to do is lighten up! I really enjoy long road trips with my husband and the fun we have together along the way. I like that I'm role modeling what? Independence? Confidence? For young girls who wave to me from the back seat of their parents' cars. I love turning guys' heads when I roll up alongside them at a traffic light. Mostly though, I have to say that I enjoy the confidence that comes from being comfortable with power. That's a pretty heady thing for a woman.
She Knows: In what ways do you break the stereotype?
Donna Smallin Kuper: It seems that a lot of women who ride grew up riding dirt bikes (or ATVs or other powerized vehicles). While they were out getting dirty, I was home playing nicely with my dolls. So when I decided at the age of 45 that I wanted to get a motorcycle, I had absolutely no riding experience and didn't know the first thing about motorcycles. I figured if I could ride a bicycle, I could ride a motorcycle. Turns out it wasn't as easy as it looked and I was definitely not a natural. I actually flunked out of my first day of motorcycle safety school! Thanks to some one-on-one coaching from my then fiancé, I returned to school the following week and passed the test to get my license. I've since ridden more than 14,000 miles in three years.
Dawn Maslar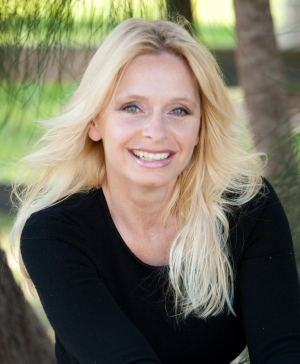 Dawn Maslar is the author of the soon to be released book The Broken Picker Fixer. A book for women who seem to attract and be attracted to the wrong men. She's an attractive blond, non-tattooed, biology professor who rides her own bike.
She Knows: When did you start riding?
Dawn Maslar: I started riding 20 years ago in college. An old boyfriend left his bike when he went off to the air force. I loved it because it was fun and convenient to park. I stopped riding for many years while I was being "responsible". About five years ago, after a divorce, I started riding again.
She Knows: What do you find most enjoyable about riding?
Dawn Maslar: There is an almost indescribable feeling I get when I am on the bike. It's as close to flying as you can get and still be on the ground. It automatically shuts off all the noise in your head since you have to concentrate. Because of the potential danger you become fully present … you are in the now. You are afraid yet exhilarated, your senses are on full alert. There is no tomorrow, no yesterday, only right here, right now, you and the road.
She Knows: In what ways do you break the stereotype?
Dawn Maslar: How I break the stereotype depends on what you believe the stereotype is. If you believe the stereotype is the scantly clad big breasted bimbo on the back, then yes I have shattered this illusion. I love to be female and ride on the back, but I am not afraid to ride my own. In a world were intelligence is not a requirement, I work as a Biology professor. And, finally, in on of the last male bastions, I am accepted and looked at differently because, although I am female, I am also a columnist in a biker magazine.
Pamela Klug
Pamela Klug, just turned 50 last month. She bought her 2005 Harley Davidson Softtail Deluxe with just seven miles on it -- now she has more than 40,000!
She Knows: When did you start riding?
Pamela Klug: I started riding in 2004. I was living in Milwaukee during the 100th anniversary celebration. My girlfriend and next-door neighbor Sandy came over and said, "That really looks like fun. So, you wanna do this?" You bet! We took the Motorcycle Safety Foundation class, bought motorcycles and every night after dinner, she and I went riding the backroads. We were such goofballs. We'd suit up to ride to the grocery store or to the drug store. Any excuse to go riding. We were together the first time she dumped her bike, and the time I ran out of gas. We rode together, we learned together, we had a blast together. The funny part was that our husbands didn't have bikes and so we left them at home every night. Another woman in our neighborhood joined us on our rides. You've heard of soccer moms? We were Harley moms.
She Knows: What do you find most enjoyable about riding?
Pamela Klug: Riding my motorcycle is empowering because I am in control of my own freedom. I control where I go. I control when I go. There are few things I'd rather do than ride. I love the looks I get from drivers and especially little girls in the back seat. "That's a GIRL on that bike" is something I frequently hear when I pull up to a red light. The only thing better is when I'm riding with a bunch of my girlfriends. In 2007, I rode from Wilmington, DE to Portland, OR. In 2008, it was Florida to Wisconsin and a ride to Washington, DC for Rolling Thunder. This year, I'm riding from Florida to Sacramento, CA.
She Knows: In what ways do you break the stereotype?
Pamela Klug: I never liked the term "biker chick." I guess I think of a biker chick as the girl on the back. She's just another accessory for the guy she's riding with. I'm a woman who happens to ride a motorcycle. I've never ridden on the back, I've always been in front. One thing I've found when riding is that it doesn't matter what you do for a living, or what brand of bike you ride, it's more about the experiences you have had, the places you've seen and the people you meet along the way. Doesn't matter how you look perched on the back of some guy's bike. I learned to ride at age 45. I'm a professional woman, working in the financial services industry. I ride my bike to work, and when I get there, change into my blazer, slacks and heels. And, you know, I do carry my makeup bag and curling iron with me in the saddlebag (have to fix my helmet hair). Show me a biker chick who does that!
Up Next: Meet riders Eldonna, Kyle and Brenna