12 Female Motorcyclists
You might picture a biker chick as a dirty, foul-mouthed, tattoo-covered woman riding on the back of her man's bike. But female motorcycle riders all over the world are breaking the stereotype. They are girly girls who love a good lipstick and a great pair of heels. They are mothers, grandmothers, writers, teachers, nurses and business owners. They are smart, independent, accomplished women, who also love to ride their own bikes. We had the opportunity to talk to 12 of these wonderful women about their motorcycles and their lives.
(page 2 of 4)
Marian Madonia
Marian Madonia is an author, speaker and consultant on people issues in the workplace. She's also an avid motorcycle rider.
She Knows: What do you find most enjoyable about riding?
Marian Madonia: It is a total adrenaline rush. I love the power of the motorcycle and letting the gas out to get to 70 miles an hour as fast as I can. I've tested my limits and learned to trust my abilities by taking winding mountain roads, being hit by golf ball sized hail and dangerous gusting winds and driving 50 mph down a gravel road (to keep up with the experienced riders). When I'm cruising, I can hear myself think and am able to slow down and be present. I can smell the changing scents; I can feel the changing temperatures. Best of all, I really ride. I'm like a kid when I get on the bike and the first of every season I usually scream down the highway for my first few minutes of a ride. I accomplished a dream (I've wanted to ride a motorcycle since I was 5). Growing up, men dominated the house and life. I was expected to be a girl and do girly things. Riding a motorcycle was out of the question. When I hit 30, I realized I got to make the decisions in my life and decided I'd learn to ride.
She Knows: In what ways do you break the stereotype?
Marian Madonia: I began riding in 1993 and I've hung out with stereotypical "biker chicks." Most often they don't have their own bike; they usually ride behind their man. So even amongst biker chicks, I'm a bit different. Biker gear protects, so you'll find me in jeans & boots like other biker chicks. But you'll also see I have a fresh pedicure and manicure, my makeup is done like any other day, and on occasion, I've been known to wear clothing and a manicure in the colors of my motorcycle (turquoise & black). Most female riders do not ride alone. Although I have ridden with a group and prefer it, I have also done a 2000 mile solo ride (I had a little black dress and high heels in my backpack…just in case). As for my day job, I teach seminars for a financial institution and I own a speaking and consulting business and have published a book "No More Garbage: 90 Ways to Deal with Change, Challenges, and Chaos."
Christie Cooley
Christie Cooley just started riding a few years ago. And now, she's not only riding motorcycles, she's also racing them. She's helped put together her racing organization's (the largest local club racing group in the country) first ever women's racing class.
She Knows: When did you start riding?
Christie Cooley: I started riding just over three years ago. I had just broken up with yet another nice guy and didn't know what I was doing with my life, so I wrote a list of short, medium and long term life goals and started pursuing them. One of them was to get a motorcycle endorsement on my driver's license. I took a Motorcycle Safety Foundation (MSF) course that taught me both about safety as well as the mechanics of how to ride a motorcycle and then bought a used bike. I fell in love fast and hard! Now, just over three years later, I am currently racing motorcycles and doing fairly well on a regional level.
She Knows: What do you find most enjoyable about riding?
Christie Cooley: I was a girl who barely knew how to check the tire pressures in my car before I got into bikes. I didn't grow up around lots of brothers or dirt bikes. I didn't feel particularly competent around machinery, although I was athletic, confident and independent. Learning how to do something that was considered so "hard" by other women gave me a tremendous sense of empowerment. I felt like I could do anything! Like the team rally cry in the television show "Friday Night Lights," I approached the sport with "clear eyes" and a "full heart" and began to be filled with enjoyable times and the satisfaction that comes from pursuing a passion or a hobby and learning all about it. I also threw myself into the study of motorcycle safety, which I believe has helped me stay safe for nearly 15,000 miles of street riding and over 15 race weekends. I also stopped worrying so much about my dating life. Simultaneously, my dance card began to fill up. Turns out that not many guys can resist a girl who's bold enough to ride a motorcycle! Prior to learning how to ride, I would have been on cloud nine with so much attention from men, but my interests had changed and I didn't care so much about boys - I just wanted to ride!
She Knows: In what ways do you break the stereotype?
Christie Cooley: There are so many stereotypes of "biker chicks." Is it the big, tough lesbian rocking a hog? Or is it the pretty girl who can barely keep her sportbike upright and rides just to get attention from men? Or better yet, is it the "track slut" who only races just to sleep with as many racers as she can, or to get free tires (a hot commodity around the paddock)? Well, I'll start off by saying that I'm a feminine looking girl, the type who elicits great surprise in people when they find out that I ride. They just can't "picture" it. I have had a successful career, a strong education and have a great family. So, not only do I break the "biker chick" stereotype, I break the "biker" stereotype. I'm not a rebel. I don't have any tattoos. I love expensive handbags, I wear make-up every day and I've finally learned how to tuck away my highlighted hair while racing to protect it from the wind and from being abraded by my snug helmet. So now that I can say I'm a decent looking girl on a motorcycle, I'm also GOOD at it.
My love for riding transcends any comments that might come my way about craving attention. I know how to change my own oil, brake pads, wheels and so on. I can haul my own bike to the track with my truck and trailer. I've also proven myself on the racetrack to be better than the average racer girl, achieving milestones not seen by very many women before. That said, I'm a type A personality with big goals and big dreams, and I want to push myself even further in racing. Later this month, a woman will race in a World Supersport event for the first time ever, and although I'm not presumptuous enough to say I could make it to that level, I'll also say that I haven't stopped getting faster so I kind of feel like the sky's the limit!
Carlene Deacy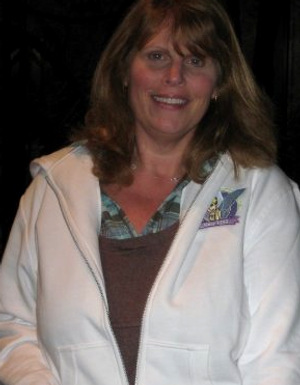 Carlene Deacy is a Registered Nurse in Buffalo, NY. She also loves to ride motorcycles. We had an opportunity to learn more about Carlene and her love of bikes.
She Knows: When did you start riding?
Carlene Deacy: I rode on the back of my husband's bike for four years. Before that time, I hadn't been on a bike since high school! Being a registered nurse of twenty years in a highly stressful environment, I found the rides to be a huge stress reliever and about a year ago I took the "Ride with Pride" safety course and decided I just had to have my own bike.
She Knows: What do you find most enjoyable about riding?
Carlene Deacy: I'm the kind of person who likes to be in control and found that being in control of my bike makes me feel empowered. Everything is crisp and clear - it's like my senses are in overload. You can smell everything and see everything so clearly. I can hop on the back of my bike and feel like I can go anywhere - my husband and I often say it's not the destination that counts, it's the journey along the way.
She Knows: In what ways do you break the stereotype?
Carlene Deacy: People seem to think biker chicks are always really hardcore partiers. The reality is, most of us aren't. But really, for me, there is a transformation that takes place when I get ready to ride. I go from wearing my white scrubs and soft makeup to throwing on my leather jacket and chaps. When I tell my patients I have a motorcycle - they are shocked. They tell me it's because I look like a soccer mom! I'm a big softie until I get on the bike then it's like I have an alter ego.
Up Next: Meet riders Donna, Dawn and Pamela