Travel Blogs
Get to know Natalie, Dianne and Darnell as they blog about their riding experiences, travels and daily lives as Harley-Davidson riders!
(page 8 of 29)
It's Rally Time!
By Darnell
August 3, 2009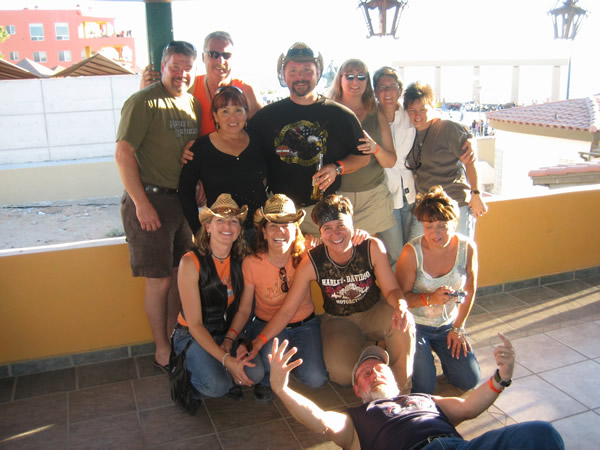 I'll bet that many folks reading this blog have never been to a motorcycle rally. Before I began motorcycling, I had a preconceived idea that motorcycle rallies were strictly for those wishing to drink excessively, get tattooed, and trash their motorcycles. Well as a veteran of several rallies, I am happy to report that I have partaken in none of the above. What I have done is jump on my bike with a bunch of my friends and had a blast. We have ridden to Las Vegas for Bikefest in October. When I lived in New Hampshire I went to the Laconia Rally. The Myrtle Beach Rally is great because I get to golf as well. Some of my friends from back east have flown here to Arizona for our rally, Arizona Bike Week. The picture displayed with this blog is from the Rocky Point, Mexico Rally.
Every rally has its own personality. What they have in common is a gathering of motorcycle enthusiasts from all over. Motorcycle manufacturers display their bikes and often demo rides are available to try out different bikes. Motorcycle accessory vendors have displays of their latest innovations. There is just about every kind of motorcycle clothing imaginable. There are bands and various kinds of entertainment. There are organized rides and poker runs that allow visitors to explore the area.
The biggest rally of them all, Sturgis is this week. I am sitting at home finishing schoolwork and writing this blog. I have not been to the Sturgis Rally, yet. I know I will it is just a matter of time.
Road Trip to New Jersey
By Dianne
August 1, 2009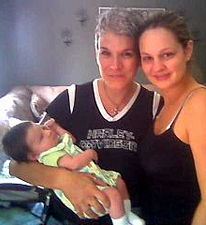 Traveling across this great country of ours is a grand experience! So many different people and cultures yet we all share the same ideology....living in America and experiencing the freedom that permits. This trip took longer than usual as the weather was not cooperating even being in the truck. It seemed there was rain and severe storms and flash flooding everywhere. Tornado warnings were posted in states that are not even part of "tornado alley"!! It is a road trip like this that you are almost glad you are not on the bike, but I must say you do miss it. Of course, you just don't miss being cold and wet and unable to see what is going on in front of you!! One advantage to not being on the bike is we got there faster to achieve our goal....holding our new grandson for the first time!

Believe it or not the first day we arrived we were unable to get to see him as we were experiencing flash floods and many roads were closed so we could not get to the kids' house to see him! So we traveled 2500 miles and the weather was not cooperating. However, the very next day was beautiful sunshine and we ran over as soon as we could.

As we walked in the house our daughter was at the door holding him. It was quite an emotional event seeing him for the first time in his Mother's arms and his Mom being "our daughter". Well, I may be the image of the tough, Harley riding Grandma but I broke down in tears and had Jessica crying with me. She immediately handed him to me and I was in heaven. He is simply a dream and it was such a great experience to see him for the first time. It happened to be my birthday and holding him was a great birthday present! So if I may...Happy Birthday to Grandma Di!! This is truly a birthday I will never forget. Seeing John hold him for the first time was just awesome. We are very proud grandparents and look forward to spending as much time with him as possible before we have to hit the road back to Arizona.

Just being here seeing the family is a great time. Our youngest daughter Kim has spent the last two nights, in between working her two jobs, visiting with us at our hotel. We have great fun together. We shared hot pizza, cold beer and great conversation. We reminisced about all the crazy things we lived through as the girls were growing up and we talked about the new addition to our family. The point is you need to savor every moment and create great memories and keep creating them.
Questions or comments for Dianne, Natalie or Darnell?
Submit below!
NEXT PAGE: Get more from Darnell, Dianne and Natalie...