Travel Blogs
Get to know Natalie, Dianne and Darnell as they blog about their riding experiences, travels and daily lives as Harley-Davidson riders!
(page 6 of 29)
Join the Movement Part 2
By Natalie
August 21, 2009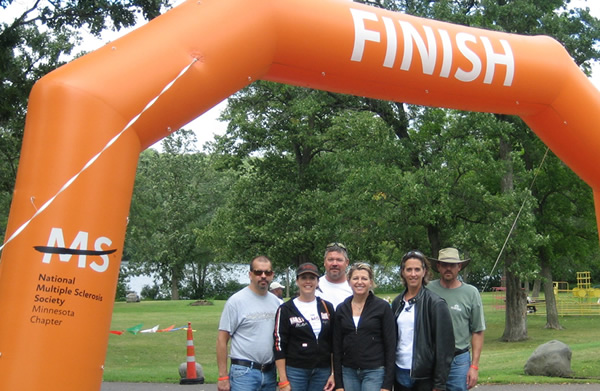 The Ride for MS I participated in raised over $125,000 to fight the battle over MS. On this ride there were 125 bikes of all makes, models, and sizes. The route took us about 450 miles from the State Capital in St. Paul, Minnesota through the countryside and woods of Wisconsin over the two days. This ride has been going on for 24 years and at dinner we met many people who have ridden this ride every year! One gentleman has even ridden the same motorcycle each of those years. He is now in his 70's and continues to participate. Another woman who was one of our hosts for the evening, used to ride her own motorcycle in the run. Now due to her MS she can no longer ride her own bike, but still shows up every year in her wheelchair to assist with the festivities.

Day two of the ride started in the rain! Of course I forgot to bring my rain pants and only had chaps. So, I had the "wet rear-end" look when we stopped for gas. Sitting on wet jeans is not comfortable at all. So, I was probably the most relieved out of our group when it stopped raining on us and the sun came out! I finally did dry out by the time we reached the finish line for lunch. Overall, this ride was enjoyable for the camaraderie and the scenery. But, it was also personally fulfilling knowing that I could help out a cause by simply doing something I love! Next year watch out for TEAM CONNIE!
Join the Movement Part 1
By Natalie
August 20, 2009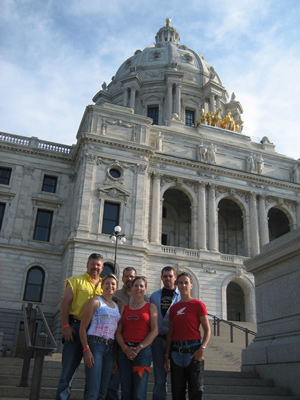 I recently rode in the MS Ride. This is a motorcycle ride sponsored by the Minnesota MS Society to raise money in the fight against Multiple Sclerosis. Our team was put together by my friend Connie and consisted of my husband Terry and me, Connie and her husband Mark, Connie's sister Maria and husband Keith. Connie was diagnosed a couple of years ago with a mild form of MS. By having Connie as a friend, I've witnessed how even the most mild form of MS changes ones' life. She was originally diagnosed with Lyme's disease a little over 10 years ago only to find out this wasn't the correct diagnosis. This is also a challenge of MS, as many patients are initially diagnosed incorrectly and a true diagnosis can take a long time.

Our ride started at the steps of the State Capital in St. Paul and took us through some of the most beautiful countryside into Wisconsin. We rode many parts of Wisconsin's historic Rustic Road system and ended at Telemark Resort in Cable, WI. Cable is known for hosting the annual American Birkebeiner. This cross-country ski race attracts over 9,000 skiers from about the world! Our evening event for the MS Ride included a dinner banquet with various awards and recognitions given out. You should know Connie won the award for the most new recruits to the ride! More about how we did in my next blog. In the meantime, visit the MS Society website and learn a bit more about MS and the work done by the society by going to www.nationalmssociety.org.
Questions or comments for Dianne, Natalie or Darnell?
Submit below!
NEXT PAGE: Get more from Darnell, Dianne and Natalie...