Travel Blogs
Get to know Natalie, Dianne and Darnell as they blog about their riding experiences, travels and daily lives as Harley-Davidson riders!
(page 4 of 29)
Flagstaff and the Painted Desert
By Darnell
September 3, 2009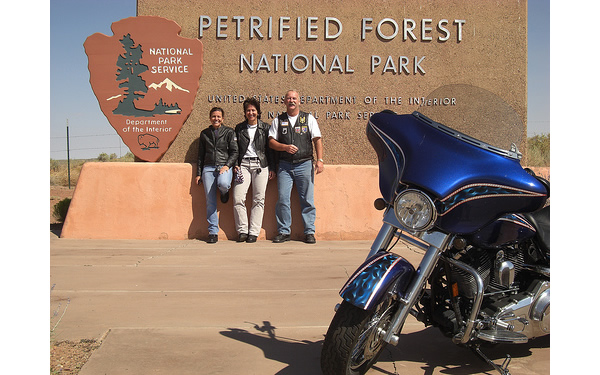 Flagstaff is a fantastic little city whose character is still influenced by Route 66 which runs right through the center of town. There is also railroad station which also brings a nostalgic feel to the city. This old southwestern city is home to Northern Arizona University which makes Flagstaff a vibrant and fun city. Flagstaff also has a great old downtown with coffee shops, great restaurants, and theaters. If it sounds like I am smitten with Flagstaff, it is because I am. One nice bonus is that is that it is on average 25 degrees cooler than Phoenix. What a great place.
Our second afternoon in Flagstaff, Diane and John got out of work a little early and we rode out to Meteor Crater. As the name implies, it was formed by a meteor crashing to earth in Northern Arizona 50,000 years ago. It is huge. The impact was such that it not only drove the meteor into the ground but it forced the earth up around it. The crater is about 40 miles east of Flagstaff and we had a great ride out and back. We walked around the downtown and had a great dinner at a Thai restaurant.
The next day we were heading home, taking the scenic route. We stopped in Winslow for a truly wonderful breakfast at the La Posada Hotel. This hotel was built in 1929 as a stop on the Santa Fe Railway. It is like stepping back in time. If you are ever in Winslow be sure stop and visit La Posada. It is a beautiful grand old hotel. In fact, they had prickly pear bread pudding that I didn't order. Now, it is haunting me and I have to go back!
After breakfast we stood on the corner in Winslow, Arizona made famous by the Eagles song, Take It Easy. We headed out of town with the Petrified Forest and the Painted Desert as our next destination. The Petrified Forest National Park is an awesome ride on a motorcycle. We started in the Painted Desert section and rode down into the Petrified Forest. Both sections of the park are breathtaking and fascinating. We rode home through the Salt River Canyon, an absolute blast on a motorcycle. We had a great weekend that will not soon be forgotten.
Questions or comments for Dianne, Natalie or Darnell?
Submit below!
NEXT PAGE: Get more from Darnell, Dianne and Natalie...