Marking A Milestone
Do you need gift ideas for your high school grad? High school graduation is a huge milestone in a teen's life, marking the end of one journey and the start of another. With just the right gift, you can help your favorite grad commemorate the big event. Check out our pick of the top 5 mementos to help mark this special achievement.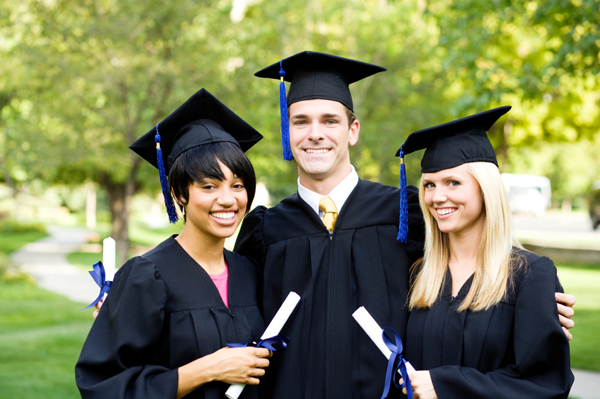 If you follow human interest stories on TV or online, you may think there's a new trend in graduation gifts. There are reports of 18-year-olds receiving European vacations, BMWs and plastic surgery to mark the momentous occasion. How can you compete with that?
Fortunately, such excessive gifting trends are the exception, not the norm. Traditional graduation presents are still the way to go. They are just as – if not more – meaningful to the recipient than any elaborate gesture. Here are just a few gift suggestions that are appropriate for the high school graduate on your list.
Bling
Great things come in small packages. Jewelry is a traditional gift its recipient can enjoy for a lifetime. A beautiful locket, bracelet, charm or frame makes a lovely gift for a girl, while guys may prefer a handsome watch, money clip, cuff links, keychain or pen. You don't have to break the bank with a Rolex or an expensive necklace from Tiffany's, in fact personalizing the jewelry will make it special and is an affordable service provided by places like Things Remembered. An inspirational engraving will make your gift the ideal keepsake for the grad.
Electronics
Many new graduates are already well established in the technology department, but they may appreciate a novelty to add to their collection. It seems a new gadget hits the market every day. Check out the new pen scanners, or smart pens. These amazing devices record audio and link it to notes which can easily be downloaded to a computer. Pen scanners save the user a ton of typing time and are available with a variety of bells and whistles – from music composition to foreign language translation.
If you don't feel comfortable delving into the realm of the latest devices, consider some sort of accessory, such as a personalized laptop case. And every electronic junkie needs an attractive charging valet. These clever little stations come in a variety of styles and enable the user to charge a number of gadgets all at once.
Memory makers
Graduation is also called commencement because it's the beginning of the rest of the graduate's life. Help the gift recipient record this once-in-a-lifetime journey with memory-making items. Digital cameras and flip cams are a great way to go. If that's too steep for your budget, put together a slew of scrapbooking materials, including some photos and memorabilia from high school. Add a creative storage box in which to keep the items so the busy graduate will have everything in place when the time comes to put the scrapbook together.
Books
After 13 or so years in the classroom, most graduates are comfortable with the concept of following instructions from a book. That's why books like, How to Win Friends and Influence People and The Seven Habits of Highly Effective People are so incredibly successfully. These life guides offer advice and direction to readers as they make their way in this complicated grown-up world. Bookstores are filled with self-help books on subjects ranging from business to relationships. Biographies on everyone from Abraham Lincoln to Shaquille O'Neal are another source of motivation for readers. Consider giving your special grad a copy of a book that inspired you, and add a notation inside sharing why the book is meaningful to you.
Money
A gift of cash gift may seem impersonal, but for the graduate, it's highly practical. Whether the grad plans to enter college or the workforce, money may be in short supply. College expenses reach way beyond tuition and board – there are books, computer supplies, transportation, groceries and so much more. If cold hard cash just seems too cold and hard, opt for a gift card to the graduate's favorite shopping spot. Or purchase and frame one stock from a successful, well-known corporation.
There is much truth in the old adage, "It's the thought that counts." Any gift you present with love and good wishes will be appreciated by your dear graduate.
Tell us: Share your high school graduation gift idea! Comment below!

Read more on high school graduation: