Visiting
Sedona
Can one vacation truly have something for everyone? Yup! Absolutely! Sedona, Arizona not only has the "Wow!" factor, but is also a place where "boredom" is not part of the vocabulary.
(page 7 of 7)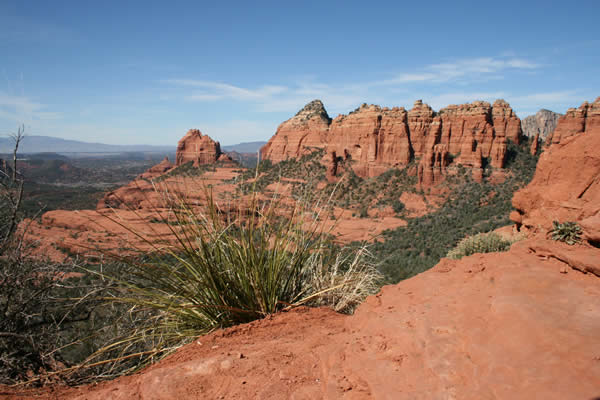 Lodging in Sedona
Sedona and adjacent Oak Creek offer a wide range of lodging options. A variety of wonderful bed and breakfasts dot both towns and their surrounding areas. Taking the kids along? Consider a spacious unit in one of the many timeshare condos where you can have multiple bedrooms as well as a living room and kitchen facilities.
Timeshares also offer the amenities of a pool, hot tub, game room and activities for both adults and kids. There are also many lovely rental cottages putting you more in touch with nature. Of course, there are some great hotels and motels, as well. One thing is certain, however, no matter where you choose to lodge, the views of the red rocks of Sedona are all breathtaking.
>> The Verde Canyon Railroad in Clarkdale, Arizona
Dining
You won't starve in Sedona! Restaurants of all types and price ranges are easy to find. An absolute must visit while in Sedona is The Coffee Pot Restaurant that looks out onto its namesake the "Coffee Pot" red rock formation. The menu is inexpensive and offers a huge selection of 101 fantastic omelets. You don't eat eggs? No fear, because all the other choices on their menu are equally delicious.
A longtime favorite in Sedona and another restaurant to add to your list is Oaxaca Restaurante & Cantina (pronounced wa-ha-ka). This charming Mexican restaurant serves a wide range of Mexican, Southwest, American and vegetarian dishes in addition to a yummy selection of margaritas.
For a night of hot romance and fantastic Italian food make a reservation at Dahl and DeLuca or their equally wonderful second restaurant in Oak Creek, La Cucina Rustica. Both of these are pricey, but elegant, delicious, and worth the splurge.
>> Experiencing Sedona, Arizona For the First Time
A vacation for the entire family
As you can see, Sedona has something for everyone – Mom, Dad and the kids too! In today's economy, it doesn't need to be costly, either. Once there, so much of what you can do has either no cost or a minimal charge. Once you visit the red rocks of Sedona, you'll be sure to find your way back over and over again… and every time is sure to be a "Wow!"
Top photo by Nancy Price; other photos by Nina Spitzer
For more information:
More travel fun
Top 20 romantic getaways for Valentine's Day in the US
Home-sweet-tent: Luxury camping tips
Where to travel in the summer for romantic couples
Re-centering yourself: Morning exercise