Top Green Beauty Products
Parabens, propyl, ethyl, say what? It seems more and more these hard-to-pronounce ingredients are not only being blamed as potentially harmful chemicals, but also prevalent in most beauty products. Luckily, there's tons of eco-friendly alternatives that still work all the wonders that you're looking for. Here are some of the best green beauty products out there.
(page 3 of 6)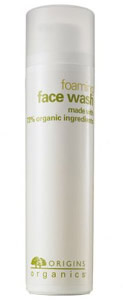 Best face wash: Origins Organics
Origins has launched a line under their current skincare umbrella that's specifically for the organic consumer. The result is Origins Organics, the first line of skin, body and hair care products to be certified under the USDA National Organic Program. The foaming face wash is our favorite and features organic clove, rose, lavender, patchouli and red thyme essential oils along with the cooling therapies of aloe that soothe and calm the skin.